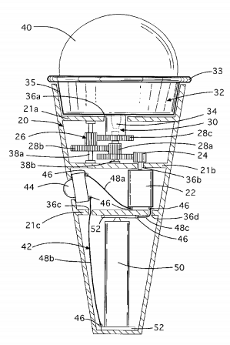 Richard Hartman's "motorized ice cream cone," patented in 1999, saves both time and trouble:
Because the act of eating an ice cream cone has traditionally been performed by holding a scoop of ice cream largely stationary in one's hand relative to the continuous licking movements of one's tongue, the appeal of a device that basically reverses this procedure — that is, continuously moves the ice cream portion while one's tongue is held in a relatively stationary position — has been largely overlooked. However, it can be seen that such a device is enormously entertaining, extends the natural enjoyment and creative play possibilities of eating ice cream and similarly malleable foods, and enhances the overall experience of eating such foods for young children and adults alike.
Perhaps we can apply the same principle to corn on the cob.