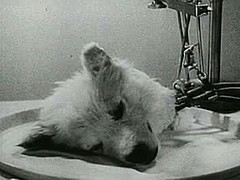 Sorry about the photo. It's a dog's head, kept alive in the 1940s by an experimental Soviet device called an autojector, which pumped oxygenated blood through it. Reportedly this kept the head alive for hours — it would cock its ears at sounds and lick its chops when citric acid was smeared on them.
That ain't all. If you believe the 1940 film Experiments in the Revival of Organisms, Soviet scientist Sergei S. Bryukhonenko drained the blood from a dog until it reached clinical death, left it in that state for 15 minutes, then connected it to the autojector. In the film, the heart and lungs resume functioning, and 12 hours later the dog is reported to be on its feet, barking and wagging its tail.
Is all this for real? The film's authenticity is debated — some say it may show re-enactments rather than authentic experiments — but the research itself was well documented, leading eventually to modern heart-lung machines and a posthumous Lenin Prize for Bryukhonenko.