From Lee Sallows:

In an electrical network, if resistors x and y are placed in series their total resistance is x + y; if they're placed in parallel it's 1/(1/x + 1/y).
This offers an intriguing opportunity for self-reference. Each of the networks above contains four resistors with values 1, 2, 3, and 4, and the total resistances of the networks themselves are 1, 2, 3, and 4. So any one of the numbered resistors in these networks can be replaced by one of the networks themselves.
The challenge was posed by Sallows and Stan Wagon as a Macalester College "problem of the week"; these examples were discovered by Brian Trial, an automotive electronics engineer from Ferndale, Mich. Sallows points out that any such solution has a dual that results from changing series connections to parallel, and vice versa, and then replacing all resistors values by their reciprocals.
This leads to a further idea: The two sets of resistors below are "co-replicating" — the four networks on the left can be used to replace the four resistors in any of the networks on the right, and vice versa.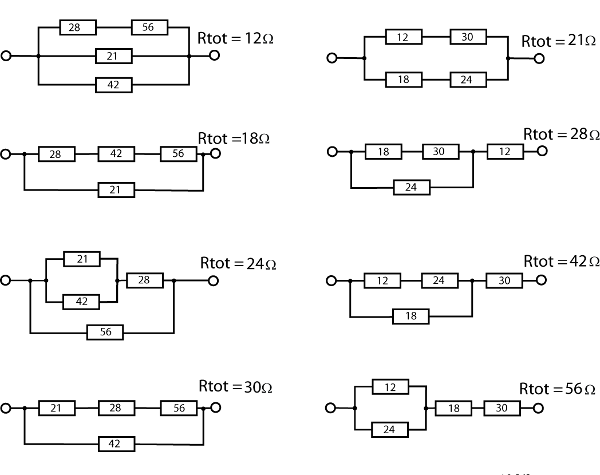 (Thanks, Lee.)