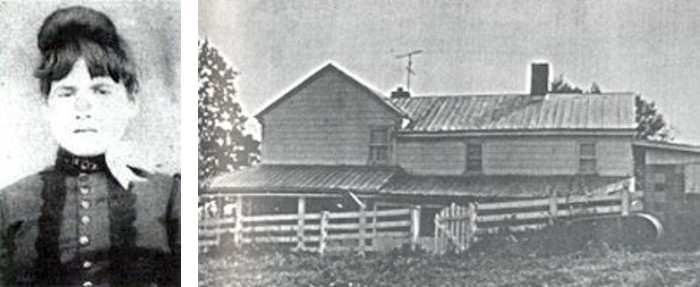 In 1897, shortly after Zona Shue was found dead in her West Virginia home, her mother went to the county prosecutor with a bizarre story. She said that her daughter had been murdered — and that her ghost had revealed the killer's identity. In this week's episode of the Futility Closet podcast we'll tell the story of the Greenbrier Ghost, one of the strangest courtroom dramas of the 19th century.
We'll also consider whether cats are controlling us and puzzle over a delightful oblivion.
Intro:
Anagrams, a palindrome, and a letter bank regarding American presidents.
A crossword without clues, by Lee Sallows.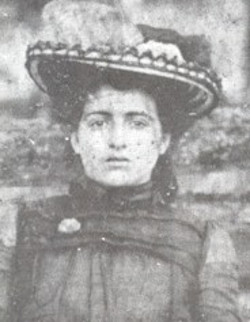 Mary Jane Heaster, Zona's mother.
Sources for our feature on the Greenbrier Ghost:
Katie Letcher Lyle, The Man Who Wanted Seven Wives, 1986.
"The Greenbrier Ghost," West Virginia Division of Culture and History (accessed Sept. 22, 2018).
David Jenkins, "Common Law, Mountain Music, and the Construction of Community Identity," Social & Legal Studies 19:3 (September 2010), 351-369.
Joel Ebert, "Trials in High Profile," Charleston [W.V.] Sunday Gazette-Mail, Oct. 11, 2015, A.1.
Joel Ebert, "Blankenship's Just One of Many High-Profile Trials in WV History," TCA Regional News, Oct. 11, 2015.
Sandi Toksvig, "Ghosts Obviously Have Their Downsides, But at Least They Make Life Interesting," Sunday Telegraph, Jan. 23, 2011, 5.
Mike Conley, "Ghost Brings Murderer to Justice," Marion [N.C.] McDowell News, Aug. 27, 2009.
Allison Barker, "Courthouse Old Enough to Have Ghost in Its History," Charleston Sunday Gazette-Mail, March 9, 2003, 2B.
Chris Stirewalt, "A Haunting Halloween," Charleston Daily Mail, Oct. 31, 2002, 1C.
Michelle Saxton, "West Virginia's Hills Are Home to Ghostly Tales," Charleston Gazette, Oct. 30, 2000, 7A.
Marina Hendricks, "Retelling a Greenbrier Ghost Tale," Charleston Sunday Gazette-Mail, Oct. 31. 1999, 1E.
"Trial of Trout Shue," The Bar 11:2 (February 1904).
"Foul Play Suspected," Greenbrier Independent, Feb. 25, 1897.
"Foul Play Suspected," Staunton [Va.] Spectator and Vindicator, March 4, 1897.
Garry Rodgers, "How a Ghost's Evidence Convicted a Murderer," Huffington Post, Feb. 19, 2017.
Listener mail:
Nic Fleming, "Hungry Cats Trick Owners With Baby Cry Mimicry," New Scientist, July 13, 2009 [contains audio files of urgent and non-urgent purrs].
Lynne Peeples, "Manipulative Meow: Cats Learn to Vocalize a Particular Sound to Train Their Human Companions," Scientific American, July 13, 2009.
Karen McComb et al., "The Cry Embedded Within the Purr," Cell 19:13 (July 14, 2009), R507-R508.
Mayo Clinic, "Toxoplasmosis," Oct. 3, 2017.
Paul R. Torgerson and Pierpaolo Mastroiacovo, "The Global Burden of Congenital Toxoplasmosis: A Systematic Review," Bulletin of the World Health Organization 91 (2013), 501-508.
Centers for Disease Control and Prevention, "Parasites – Toxoplasmosis (Toxoplasma Infection)" (accessed Sept. 26, 2018).
Ed Yong, "Mind-Bending Parasite Permanently Quells Cat Fear in Mice," National Geographic, April 26, 2013.
M. Berdoy et al., "Fatal Attraction in Rats Infected With Toxoplasma gondii," Proceedings of the Royal Society of London B: Biological Sciences 267:1452 (2000), 1591-1594.
Karen Sugden et al., "Is Toxoplasma Gondii Infection Related to Brain and Behavior Impairments in Humans? Evidence From a Population-Representative Birth Cohort," PLoS One 11:2 (2016), e0148435.
Samuel Osborne, "Mind-Altering Parasite Spread by Cats Could Give Humans More Courage and Overcome 'Fear of Failure', Research Suggests," Independent, July 25, 2018.
"The Myth of 'Mind-Altering Parasite' Toxoplasma Gondii?" Discover, Feb. 20, 2016.
Jaroslav Flegr, "Effects of Toxoplasma on Human Behavior," Schizophrenia Bulletin 33:3 (2007), 757-760.
B.D. Pearce et al., "The Relationship Between Toxoplasma gondii Infection and Mood Disorders in the Third National Health and Nutrition Survey," Biological Psychiatry 72:4 (2012), 290-295.
Lucy Jones, "Ten Sinister Parasites That Control Their Hosts' Minds," BBC Earth, March 16, 2015.
F. Thomas et al., "Biochemical and Histological Changes in the Brain of the Cricket Nemobius sylvestris Infected by the Manipulative Parasite Paragordius tricuspidatus (Nematomorpha)," International Journal for Parasitology 33:4 (2003), 435-443.
Sandra B. Andersen et al., "The Life of a Dead Ant: The Expression of an Adaptive Extended Phenotype," American Naturalist 174:3 (2009), 424-433.
Chris Reiber, "Change in Human Social Behavior in Response to a Common Vaccine," Annals of Epidemiology 20:10 (2010), 729-733.
F. Solmi, et al., "Curiosity Killed the Cat: No Evidence of an Association Between Cat Ownership and Psychotic Symptoms at Ages 13 and 18 Years in a UK General Population Cohort," Psychological Medicine 47:9 (2017), 1659-1667.
This week's lateral thinking puzzle was contributed by listener Ben Snitkoff.
You can listen using the player above, download this episode directly, or subscribe on Google Podcasts, on Apple Podcasts, or via the RSS feed at https://futilitycloset.libsyn.com/rss.
Please consider becoming a patron of Futility Closet — you can choose the amount you want to pledge, and we've set up some rewards to help thank you for your support. You can also make a one-time donation on the Support Us page of the Futility Closet website.
Many thanks to Doug Ross for the music in this episode.
If you have any questions or comments you can reach us at podcast@futilitycloset.com. Thanks for listening!