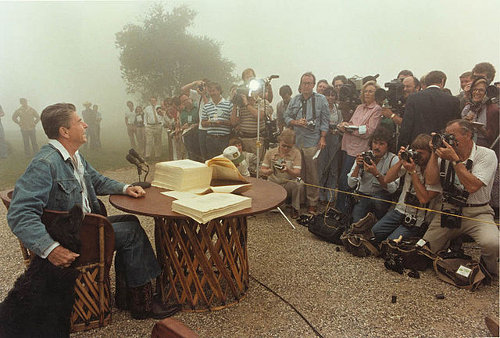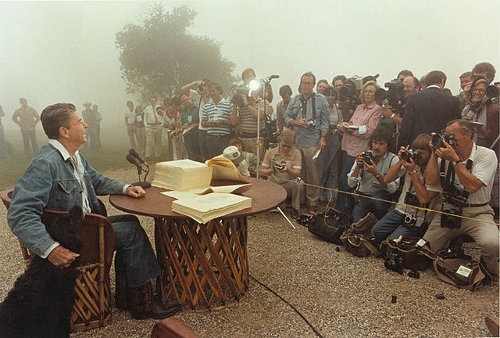 In 1936, as Franklin Roosevelt campaigned for re-election against Republican Alf Landon, a group from Wall Street's financial district sponsored a competition to find the best anagram for FRANKLIN DELANO ROOSEVELT. The winner was VOTE FOR LANDON ERE ALL SINK.
During the 1980 campaign, Jimmy Carter was accused of reversing his position on several issues to maintain his popularity. Edward Scher of New York University coined the palindrome TO LAST, CARTER RETRACTS A LOT.
Carter lost that election to Ronald Reagan, who inspired Howard Bergerson to compose a "press conference" in 1982 using only the letters in RONALD WILSON REAGAN. Here the Gipper describes his foreign policy:
We are sworn nonaggressors; we need law and order, we disallow war as lawless and senseless, and in a larger sense we also regard war as, now and again, needed. A needed war is no dead end or swan song, nor need we ride in war as no-good sinners on genderless geldings! We need androgens and derring-do! We need Old Glories, and seasoned soldiers garrisoned worldwide, generals in golden regalia, and raised dander! We need all-seeing, world-girdling radar, seagoing sonar and liaison ensigns, newer DEW lines and earlier NORAD warnings, larger arsenals and deadlier arrows in silos, R-and-D on lasers, and goodlier anger! We need no ring-a-ding dissensions and wild-goose rallies, nor do we need addled ding-a-ling diagnoses on wielding dread winged swords and daggers — or on wielding God's own grenades! Ordained grenadiers alone assess, and ordained godlings alone will wield Gold's sidereal grenades riding on Odin's arrows. Godless Leningrad warlords and roodless, religionless Red warriors sold on Red-engendered Warsaw agreeings are as sidling sidewinders in loose sand! In nine innings (I disdain gridiron analogies) we will win — no one is dawdling! We are leaning on oars! We and God will engage all Red raiders, and, God willing, we will win odds-on! No one dragoons or goads God!
Reagan's name can also be rearranged to spell INSANE ANGLO WARLORD.