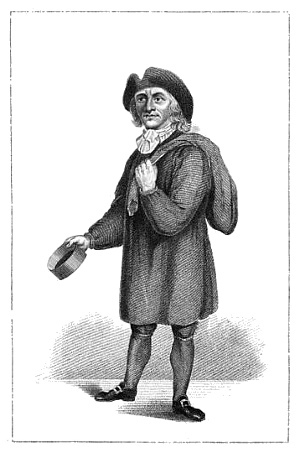 Thomas Britton (1644-1714) gave the 17th century proof that a flower can bloom wherever it's planted. Though a humble coal merchant, Britton so distinguished himself in chemistry, book collecting, and music that he attracted admirers among the high-born. And, wonderfully, when he converted the tiny loft over his coal repository into a concert hall, they attended a weekly series of chamber music concerts there.
"The ceiling of the room in which his concert was held was so low that a tall man could scarcely stand erect in it," runs one account. "The staircase was outside the house, and could scarcely be ascended without crawling; yet ladies of the first rank in the kingdom forgot the difficulty with which they ascended the steps in the pleasure of Britton's concert, which was attended by the most distinguished professors."
The concerts came to be thought the best in London, attracting both wealthy music lovers and the most eminent musicians (including, by some accounts, Handel himself).
Throughout all this Britton continued to work in the coal trade and charged only the lowest subscription rates. "Britton was indeed so much distinguished that when passing along the streets in his blue linen frock, and with his sack of small-coal on his back, he was frequently accosted with such expressions as these: 'There goes the famous small-coal man who is a lover of learning, a performer of music, and a companion for gentlemen.'"
Indeed, after a lifetime mixing with high and low, Britton died renowned for both humility and cultivation. The poet John Hughes wrote, "Let useless pomp behold, and blush to find / So low a station, such a liberal mind."