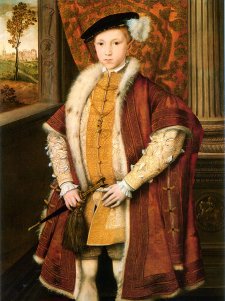 When Edward VI succeeded to the throne at age 9, William Thomas, clerk of the council, set him 85 questions on history and policy to answer at his leisure. "For though these be but questions, yet there is not so small an one among them, as will not administer matter of much discourse, worthy the argument and debating." Samples:
Whether it is better for the commonwealth, that the power be in the nobility or in the people?
How easily a weak prince with good order may long be maintained, and how soon a mighty prince with little disorder may be destroyed?
What is the occasion of conspiracies?
Whether the people commonly desire the destruction of him that is in authority, and what moveth them so to do?
How flatterers are to be known and despised?
How dangerous it is to be author of a new matter?
Whether evil report lighteth not most commonly upon the reporter?
Whether a puissant prince ought to purchase amity with money, or with virtue and stoutness?
What is the cause of war?
Whether the country ought not always to be defended, the quarrel being right or wrong?
What danger it is to a prince, not to be revenged of an open injury?
Whether it be not necessary sometimes to feign folly?
Thomas closes by suggesting that Edward keep the questions to himself, since it is better "to keep the principal things of wisdom secret, till occasion require the utterance."