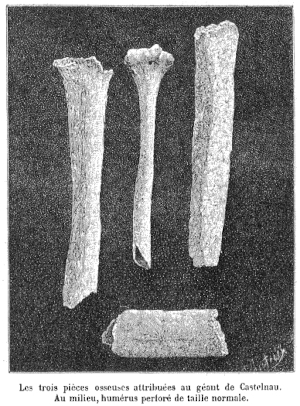 Anthropologist Georges Vacher de Lapouge turned up a surprise in 1890: While excavating a Bronze Age cemetery at Castelnau, near Montpellier, France, he discovered three apparently human bones of gigantic size. On the left is the "giant's" femur, or thigh bone; on the right is a tibia, or shin bone. Between them is a normal humerus, or upper arm bone, from the same cemetery. At the bottom is a fragment that may belong to either a femur or a humerus; if it's the latter then it must have belonged to the same giant. If this is right, then the individual would have stood between 10 and 11 feet tall.
Lapouge published his discovery in La Nature that year. "I think it unnecessary to note that these bones are undeniably human, despite their enormous size," he wrote. "The volumes of the bones were more than double the normal pieces to which they correspond."
The specimens were examined by zoologists and paleontologists at the University of Montpellier and passed eventually to pathological anatomist Paul Kiener of the Montpellier School of Medicine; the London Globe noted that "Kieger, who, while admitting that the bones are those of a very tall race, nevertheless finds them abnormal in dimensions and apparently of morbid growth."
"There has been an old tradition among the peasants of the vicinity that a cavern in the valley was, in olden times, occupied by a giant," noted Popular Science News. "It would be curious if the discovery of M. Lapouge should show it to be founded on fact."
Interestingly, the bones of further French giants were reported to have turned up near the same location a few years later. From the Princeton Union, Oct. 11, 1894: "In a prehistoric cemetery recently uncovered at Montpellier, France, while workmen were excavating a waterworks reservoir, human skulls were found measuring 28, 31 and 32 inches in circumference. The bones which were found with the skulls were also of gigantic proportions. These relics were sent to the Paris academy, and a learned 'savant' who lectured on the find says that they belonged to a race of men between ten and fifteen feet in height."
But that seems to be the end of it. Was the whole thing a hoax?