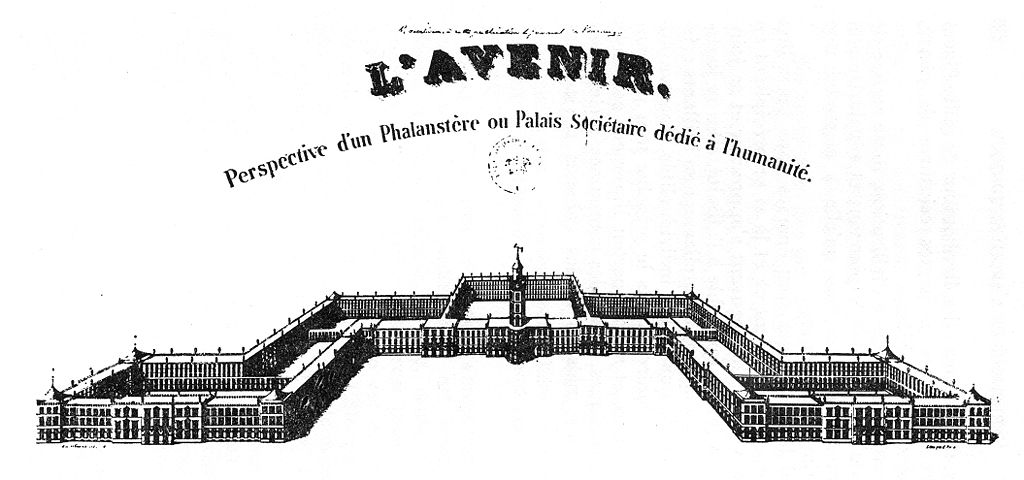 French philosopher Charles Fourier promoted a self-contained utopian society he called the phalanstère, or "grand hotel." Each building would be a four-story apartment complex with two wings, one for children and noisy activities and the other containing ballrooms and meeting halls. Tasks would be assigned based on each member's interests and desires, with higher pay going to undesirable jobs.
"In Fourier's utopia, social harmony was guaranteed by assembling exactly 1,620 members, since he believed there were just twelve common passions that resulted in 810 types of character," writes Damien Rudd in Sad Topographies. "In this way, every possible want, need and desire could be duly satisfied. It would be a society free of government, unfettered capitalism and the oppressive labour exploitation Fourier saw as the scourge of the modern world."
The idea fell flat in Europe, but seven years after Fourier's death in 1837 a group of idealistic followers built a community along the Ohio River based on his teachings. For $25 each subscribing family would get a timber house and a portion of land. It fell apart when Fourier's promised "80,000 years of perfect harmony" failed to materialize.