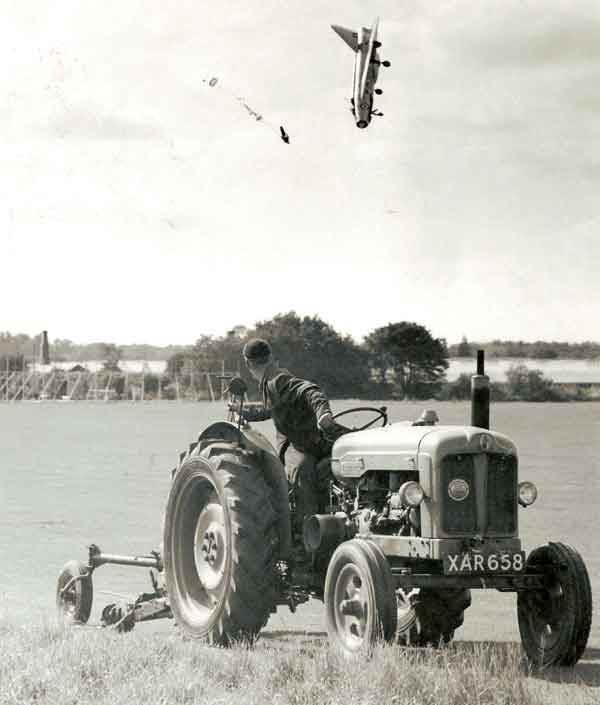 On Sept. 13, 1962, test pilot Bob Sowray told his neighbor, photographer Jim Meads, that he'd be flying an English Electric Lightning F1 jet bomber that day, so Meads brought his camera along when he took his kids for a walk, hoping to photograph the return approach. He found a good position on the runway overshoot and waited for the plane to arrive.
In the end it was pilot George Aird who was assigned to fly the Lightning, and as he approached the airfield a fire in the rear fuselage destroyed the tailplane control system at a height of only 100 feet.
Landscaping assistant Mick Sutterby was just telling Meads that the airfield runway was off limits when beyond him Meads saw the Lightning's nose pitch up and Aird eject. He had just enough time to line up the shot and snap the shutter before the jet came down nose first.
Aird and his ejection seat crashed through the glass roof of a nearby greenhouse, where they landed in adjacent rows of tomatoes. Aird said later that when the water from the sprinkler system roused him, he thought he must be in heaven. He had broken both legs, but he was flying again in six months.
The Daily Mail rejected Meads' photo as fake, but the Daily Mirror paid him £1,000 for it. It appeared in the center spread on Oct. 9, 1962.
More details at Fear of Landing.