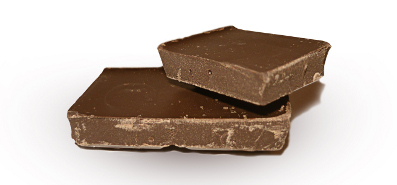 In 1987, paleontologist Tom Rich was leading a dig at Dinosaur Cove southwest of Melbourne when student Helen Wilson asked him what reward she'd get if she found a dinosaur jaw. He said he'd give her a kilo (2.2 pounds) of chocolate. She did, and he did.
Encouraged, the students asked Rich what they'd get if they found a mammal bone. These are fairly rare among dinosaur fossils in Australia, so Rich rashly promised a cubic meter of chocolate — 35 cubic feet, or about a ton.
The cove was "dug out" by 1994, and paleontologists shut down the dig. Rich sent a curious unclassified bone, perhaps a turtle humerus, to two colleagues, who recognized it as belonging to an early echidna, or spiny anteater — a mammal.
Rich now owed the students $10,000 worth of chocolate. "It turns out that it is technically impossible to make a cubic meter of chocolate, because the center would never solidify," he told National Geographic in 2005. So he arranged for a local Cadbury factory to make a cubic meter of cocoa butter, and then turned the students loose in a room full of chocolate bars.
"It was a bit like Willy Wonka," Wilson said. "There were chocolate bars on the counters, the tables. We carried out boxes and boxes of chocolate."
Fittingly, the new echidna was named Kryoryctes cadburyi.