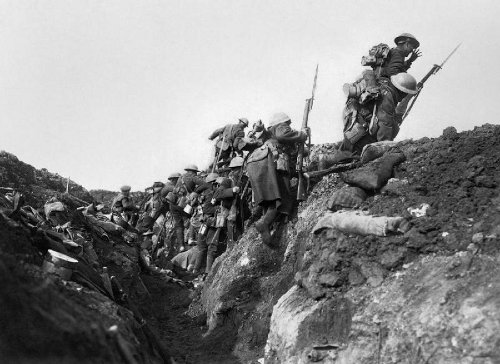 On July 1, 1916, the first day of the Battle of the Somme, British Army captain Wilfred Nevill needed a way to keep the East Surrey Regiment's B Company organized and advancing toward the German trenches. He had been told that continuous shelling had left nothing alive in the German lines, but night patrols had shown him this wasn't true.
So Nevill produced four footballs, one for each of his platoons to kick across no man's land as they charged the German position.
Private L.S. Price of the 8th Royal Sussex, who was looking on, recalled, "As the gunfire died away I saw an infantryman climb onto the parapet into no man's land, beckoning others to follow. As he did so he kicked off a football; a good kick, the ball rose and travelled well towards the German line. That seemed to be the signal to advance."
The four platoons followed suit, kicking their balls continuously across 300 yards of ground to reach the German trenches. Twenty thousand British soldiers were killed that day, including Nevill, who was shot when they reached the barbed wire, but his company gained its objective. The Daily Mail commemorated their charge with a poem:
On through the hail of slaughter,
Where gallant comrades fall,
Where blood is poured like water,
They drive the trickling ball.
The fear of death before them
Is but an empty name;
True to the land that bore them,
The Surreys played the game.
Two of the footballs have been recovered. One is in the National Army Museum, the other at the Queen's Regiment Museum, Howe Barracks, Canterbury.