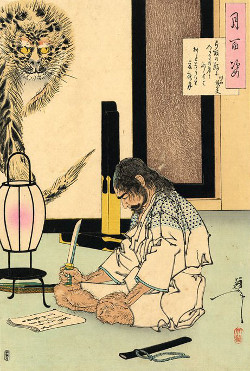 In Japanese culture it is traditional to write a "farewell poem to life," or jisei, as death approaches. Zen monk Kozan Ichikyo wrote this verse on the morning of his death in 1360:
Empty-handed I entered the world
Barefoot I leave it.
My coming, my going —
Two simple happenings
That got entangled.
And monk Mumon Gensen wrote this in 1390:
Life is like a cloud of mist
Emerging from a mountain cave
And death
A floating moon
In its celestial course.
If you think too much
About the meaning they may have
You'll be bound forever
Like an ass to a stake.
On March 17, 1945, Gen. Tadamichi Kuribayashi sent a letter to Imperial headquarters apologizing for ceding Iwo Jima to American forces. He closed with a death poem:
Unable to complete this heavy task for our country
Arrows and bullets all spent, so sad we fall.
But unless I smite the enemy,
My body cannot rot in the field.
Yea, I shall be born again seven times
And grasp the sword in my hand.
When ugly weeds cover this island,
My sole thought shall be the Imperial Land.
His body could not be identified later — it appears that prior to the final battle he removed his officer's insignia in order to fight among his men as an ordinary soldier.