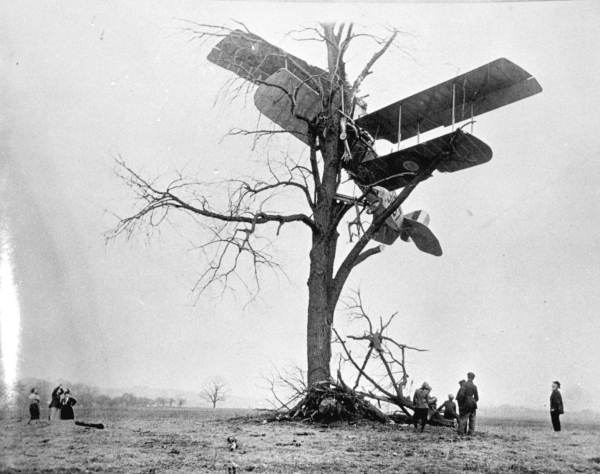 symposiast
n. a member of a drinking party
alate
adj. winged
dimication
n. fighting or strife
bouleversement
n. a turning upside down
"In Other Words," an airman's drinking song from World War I:
I was fighting a Hun in the heyday of youth,
Or perhaps 'twas a Nieuport or Spad.
I put in a burst at a moderate range
And it didn't seem too bad.
For he put down his nose in a curious way,
And as I watched, I am happy to say:
Chorus:
He descended with unparalleled rapidity,
His velocity 'twould beat me to compute.
I speak with unimpeachable veracity,
With evidence complete and absolute.
He suffered from spontaneous combustion
As towards terrestrial sanctuary he dashed,
In other words — he crashed!
I was telling the tale when a message came through
To say 'twas a poor RE8.
The news somewhat dashed me, I rather supposed
I was in for a bit of hate.
The CO approached me. I felt rather weak,
For his face was all mottled, and when he did speak
Chorus:
He strafed me with unmitigated violence,
With wholly reprehensible abuse.
His language in its blasphemous simplicity
Was rather more exotic than abstruse.
He mentioned that the height of his ambition
Was to see your humble servant duly hung.
I returned to Home Establishment next morning,
In other words — I was strung!
As a pilot in France I flew over the lines
And there met an Albatros scout.
It seemed that he saw me, or so I presumed;
His manoeuvres left small room for doubt.
For he sat on my tail without further delay
Of my subsequent actions I think I may say:
Chorus:
My turns approximated to the vertical,
I deemed it most judicious to proceed.
I frequently gyrated on my axis,
And attained colossal atmospheric speed,
I descended with unparalleled momentum,
My propeller's point of rupture I surpassed,
And performed the most astonishing evolutions,
In other words — * *** ****!
I was testing a Camel on last Friday week
For the purpose of passing her out.
And before fifteen seconds of flight had elapsed
I was filled with a horrible doubt
As to whether intact I should land from my flight.
I half thought I'd crashed — and half thought quite right!
Chorus:
The machine seemed to lack coagulation,
The struts and sockets didn't rendezvous,
The wings had lost their super-imposition,
Their stagger and their incidental, too!
The fuselage developed undulations,
The circumjacent fabric came unstitched
Instanter was reduction to components,
In other words — she's pitched!
(From Peter G. Cooksley, Royal Flying Corps 1914-1918, 2007.)