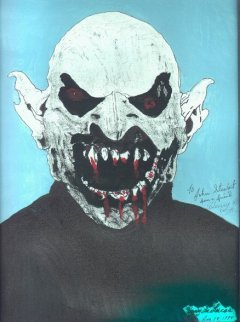 YuppiePunk's Serial Killer Art Review presents the jailhouse compositions of 14 career murderers.
This piece is the work of Henry Lee Lucas, whose pathetic life was dramatized in the film Henry: Portrait of a Serial Killer.
Born to a legless alcoholic and a violent prostitute who shot his pony and beat him into a coma, Lucas lost an eye and experimented with bestiality as a teenager before stabbing his mom and launching a one-man crime wave.
He eventually confessed to 3,000 murders; if that's true, he killed someone every day between 1975 and 1983. Kind of explains why he didn't paint still lifes.
If you're into this stuff, check out John Douglas' disturbing book Mindhunter. A former FBI profiler, Douglas inspired Scott Glenn's character in The Silence of the Lambs.
After studying sociopaths for 25 years, Douglas could examine a crime scene and give an uncannily accurate description of the killer: he has a speech impediment, he drives a red Volkswagen Beetle, he owns a German shepherd, he lives with sisters. And he'd be right. That's one talent I don't envy.