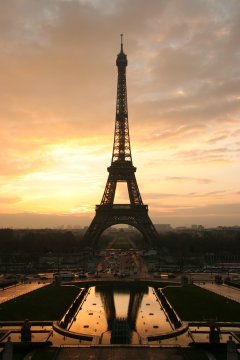 The Eiffel Tower has been getting some alarming press lately: Its nighttime image has been copyrighted, and Islamists admitted they'd planned an attack on the Paris landmark in 2002. But these still can't compete with the most outrageous episode in the tower's history, when a Bohemian con man sold the whole thing for scrap — twice.
The tower was built for the Paris Exhibition of 1889, and by 1925 its upkeep was becoming a burden. So Victor Lustig posed as a government official and summoned six scrap dealers to a secret meeting, where he told them the city wanted to dismantle it. He led a convincing tour of the site, and even induced one eager dealer to "bribe" him for the job.
Lustig fled to Vienna with the cash, and the embarrassed scrap dealer never called the cops. So the con man came back six months later and ran the same scam again, with six new dealers. This time the suspicious mark went to the police, but Lustig still escaped.
An even more successful salesman was at work elsewhere in the early 1920s: Arthur Ferguson sold Nelson's Column, Big Ben, and Buckingham Palace, then sailed to America and marketed the White House and the Statue of Liberty. Sometimes the best salesmen are the most audacious ones.