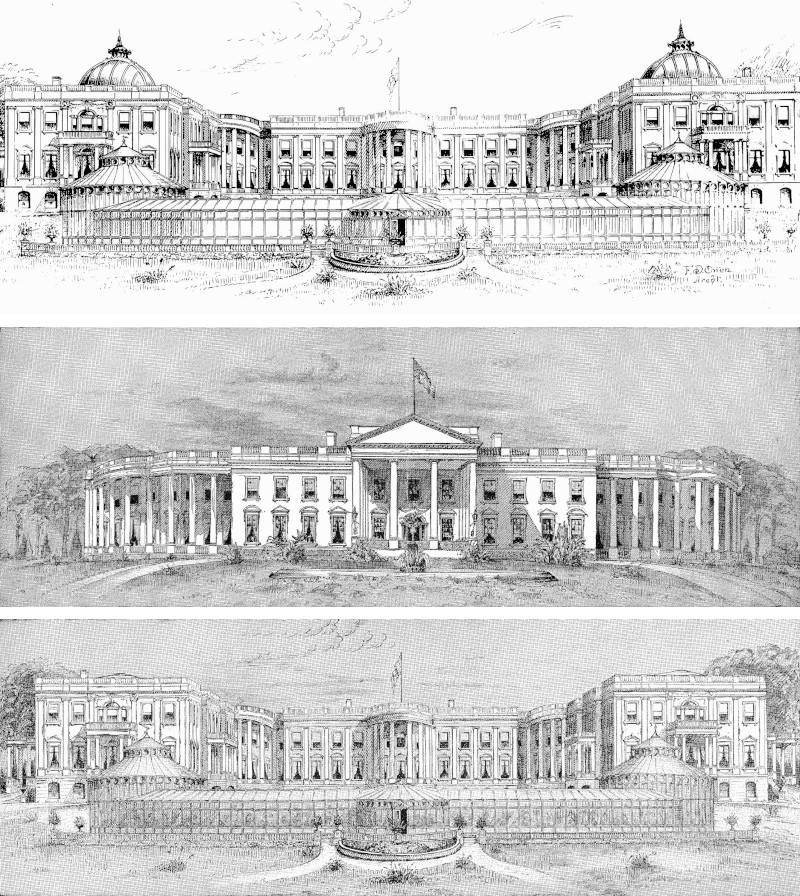 As the 19th century advanced, the White House began to seem increasingly cramped. In 1889, the centennial of the U.S. presidency, First Lady Caroline Harrison suggested adding an art wing to the east and an administrative wing to the west, with glass-enclosed palm gardens, plant conservatories, and a lily pond completing the quadrangle, creating a private inner courtyard (top). Congress shot it down.
In 1900 Army engineer Colonel Theodore Bingham offered his own plan, which would add a massive two-story cylindrical wing at each flank, with domes and lanterns patterned after those at the Library of Congress (middle and bottom). The project stalled with McKinley's assassination.
In 1902 the architectural firm McKim, Mead and White finally renovated the mansion, doubling the size of the family living quarters and providing a new wing for the president and his staff. The modern White House still largely reflects this design.
Related: In 1947, when Harry Truman proposed building a balcony on the south face of the White House, critics raised a unique objection:
Some quarters in Washington are wondering, half in fun, if President Truman's controversial balcony on the White House will make $20 bills inaccurate and outmoded. The $20 bill bears a picture of the south portico of the White House, where Mr. Truman has announced he wants to build his balcony. If that structure is added, the currency will be pictorially incorrect.
That's from the Chicago Tribune, Feb. 1, 1948. "Treasury officials scoffed at the idea that the balcony might make it necessary to print a new issue of $20 bills. They agreed that the bureau of engraving and printing is proud of the accuracy of its currency engravings, but said there is a limit to accuracy." But subsequent issues of the bill were quietly updated to reflect the new addition.