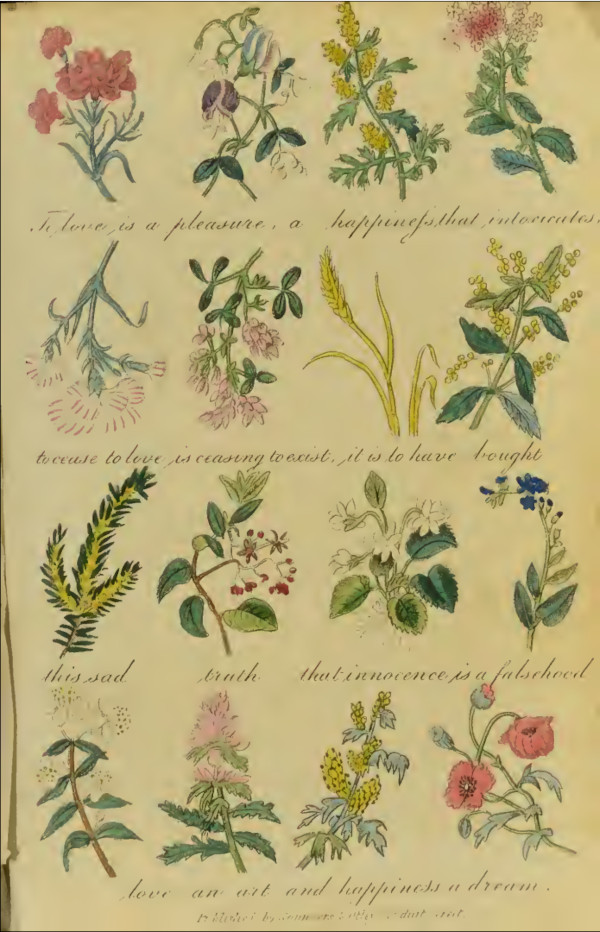 The lost art of floriography assigned meanings to flowers so that lovers could exchange messages with "talking bouquets." In his 1839 Language of Flowers, English journalist Frederic Shoberl rendered an entire verse by French poet Évariste de Parny as the combination of 16 flowers:
Aimer est un destin charmant,
C'est un bonheur qui nous enivre,
Et qui produit l'enchantement.
Avoir aimé, c'est ne plus vivre,
Hélas! c'est avoir acheté
Cette accablante vérité,
Que les serments sont un mensonge,
Que l'amour trompe tôt ou tard,
Que l'innocence n'est qu'un art,
Et que le bonheur n'est qu'un songe.
"It may be thus rendered: 'To love is a pleasure, a happiness, which intoxicates; to love no longer, is to live no longer; it is to have bought this sad truth, that innocence is falsehood, that love is an art, and that happiness is a dream.'"