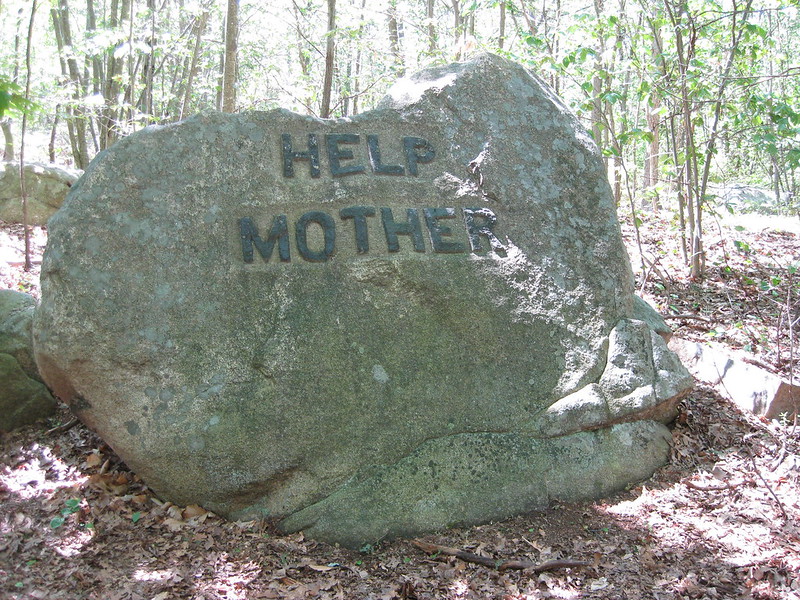 During the Great Depression, Babson College founder Roger Babson commissioned unemployed stonecutters to carve inspiring inscriptions on 25 boulders in Dogtown, an abandoned settlement in Gloucester, Massachusetts:
COURAGE
IDEAS
HELP MOTHER
KINDNESS
LOYALTY
IF WORK STOPS, VALUES DECAY
BE ON TIME
GET A JOB
INDUSTRY
INITIATIVE
INTEGRITY
KEEP OUT OF DEBT
SAVE
SPIRITUAL POWER
STUDY
TRUTH
WORK
BE CLEAN
BE TRUE
PROSPERITY FOLLOWS SERVICE
USE YOUR HEAD
IDEALS
INTELLIGENCE
NEVER TRY/NEVER WIN
Babson did some of the work himself. "Another thing I have been doing, which I hope will be carried on after my death, is the carving of mottoes on the boulders at Dogtown, Gloucester, Massachusetts," he wrote in 1935. "My family says that I am defacing the boulders and disgracing the family with these inscriptions, but the work gives me a lot of satisfaction, fresh air, exercise and sunshine. I am really trying to write a simple book with words carved in stone instead of printed paper. Besides, when on Dogtown common, I revert to a boyhood which I once enjoyed when driving cows there many years ago."
The boulders are extant today and can be visited on a hiking trail.