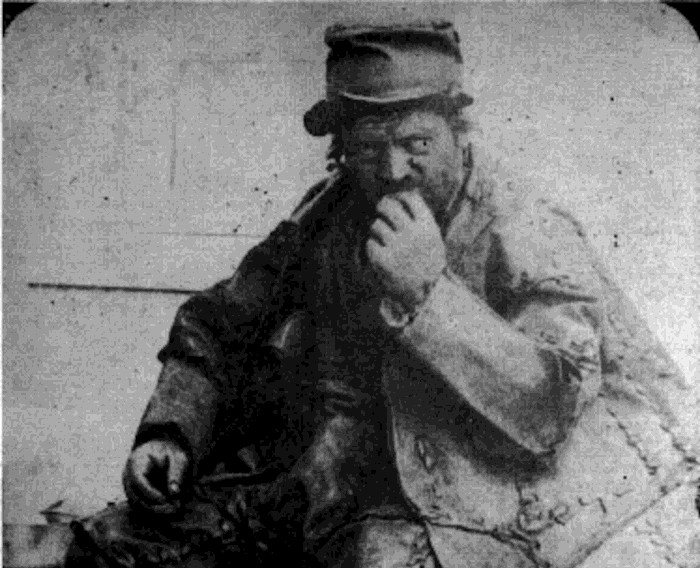 In 1856, a mysterious man appeared on the roads of Connecticut and New York, dressed in leather, speaking to no one, and always on the move. He became famous for his circuits through the area, which he followed with remarkable regularity. In this week's episode of the Futility Closet podcast we'll describe the Leatherman, whose real identity remains unknown.
We'll also consider the orientation of churches and puzzle over some balky ponies.
Intro:
Western Poland contains a grove of 400 pine trees that appear to have been deliberately bent.
In 1902 Montgomery Carmichael published the life story of an imaginary man.
Image: The Leatherman, photographed on June 9, 1885, by James F. Rodgers at the Bradley Chidsey House, Branford, Ct. Sources for our feature:
Dan W. DeLuca, ed., The Old Leather Man: Historical Accounts of a Connecticut and New York Legend, 2008.
Robert Marchant, Westchester: History of an Iconic Suburb, 2018.
Jim Reisler, Walk of Ages: Edward Payson Weston's Extraordinary 1909 Trek Across America, 2015.
Kathleen L. Murray, Berlin, 2001.
Clark Wissler, The Indians of Greater New York and the Lower Hudson, 1909.
Dave Zucker, "Who Was Westchester's Mysterious and Legendary Leatherman?" Westchester Magazine, March 24, 2021.
Jon Campbell, "Mystery Man: Will Anyone Ever Know the Real Story Behind the Leatherman?" Village Voice, June 16, 2015.
Steven R. Cooper, "Clues to the Past," Central States Archaeological Journal 58:3 (July 2011), 162-163.
"Legend in Leather," Hudson Valley Magazine, March 11, 2010.
Jim Fitzgerald, "Wanderer From 1800s Gets More Peaceful NY Grave," Associated Press, May 25, 2011.
Dan Brechlin, "Leather Man Body May Yield Clues," [Meriden, Ct.] Record Journal, Jan. 3, 2011.
"Would Leatherman Be Welcome Today?" New Haven Register, June 6, 2011.
Pam McLoughlin, "Mystery Man," New Haven Register, Feb. 13, 2011.
"Walker's Unusual Legend Is Told," Hartford Courant, Sept. 12, 2005.
Steve Grant, "Final Journey Made to Resting Place of Legendary Wanderer," Hartford Courant, July 18, 1993.
Steve Grant, "On the Road, Retracing the Leatherman's Path," Hartford Courant, June 20, 1993.
Frances Phipps, "A Man Known by All, and by None," New York Times, Sept. 23, 1984.
"The Leather Man," [Meriden, Ct.] Journal, July 19, 1886.
"A Leather-Clad Hermit," Burlington [Vt.] Free Press, April 7, 1870.
"Search For Clues Only Deepens 'Leatherman' Mystery," Morning Edition, National Public Radio, May 26, 2011.
"Leatherman," Perception, WTIC-TV, Feb. 14, 1965.
Listener mail:
"Orientation of Churches," Wikipedia (accessed Oct. 10, 2021).
Patrick Arneitz et al., "Orientation of Churches by Magnetic Compasses?" Geophysical Journal International 198:1 (2014), 1-7.
"Brazil Nuts," ORAU Museum of Radiation and Radioactivity (accessed Oct. 10, 2021).
"Natural Radioactivity in Food," EPA (accessed Oct. 14, 2021).
"Brazil Nut," Wikipedia (accessed Oct. 16, 2021).
G.V. Damiano, Hadhuch-Anti Hell-War: Monarchy's Victory; Constitution's Triumph; Tribute's Annihilation, 1922.
This week's lateral thinking puzzle was contributed by listener James Venning. Here's a corroborating link (warning — this spoils the puzzle).
You can listen using the player above, download this episode directly, or subscribe on Google Podcasts, on Apple Podcasts, or via the RSS feed at https://futilitycloset.libsyn.com/rss.
Please consider becoming a patron of Futility Closet — you can choose the amount you want to pledge, and we've set up some rewards to help thank you for your support. You can also make a one-time donation on the Support Us page of the Futility Closet website.
Many thanks to Doug Ross for the music in this episode.
If you have any questions or comments you can reach us at podcast@futilitycloset.com. Thanks for listening!