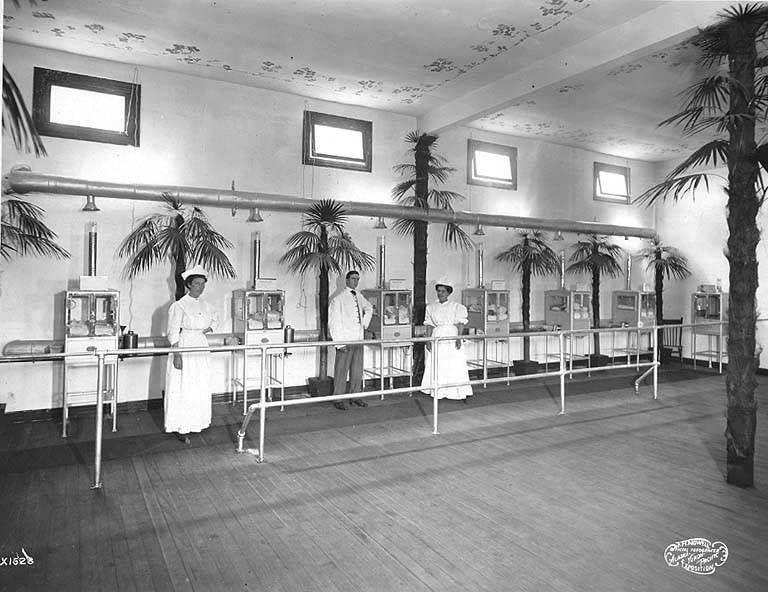 For more than 40 years in the early 20th century, Martin Couney ran a sideshow in which premature babies were displayed in incubators. With this odd practice he offered a valuable service in an era when many hospitals couldn't. In this week's episode of the Futility Closet podcast we'll describe Couney's unusual enterprise, which earned both criticism and praise.
We'll also marvel over an Amazonian survival and puzzle over a pleasing refusal.
Intro:
The inventor of the Dewey Decimal System suggested that GHEAUGHTEIGHPTOUGH might spell potato.
John VI of Portugal listened to visitors through his throne.
Sources for our feature on Martin Couney:
Dawn Raffel, The Strange Case of Dr. Couney: How a Mysterious European Showman Saved Thousands of American Babies, 2018.
Janet Golden, Babies Made Us Modern: How Infants Brought America Into the Twentieth Century, 2018.
Elizabeth A. Reedy, American Babies: Their Life and Times in the 20th Century, 2007.
Mhairi G. MacDonald, Mary M. K. Seshia, and Martha D. Mullett, Avery's Neonatology: Pathophysiology & Management of the Newborn, 2005.
Jeffrey P. Baker, The Machine in the Nursery: Incubator Technology and the Origins of Newborn Intensive Care, 1996.
David M. Allen and Elizabeth A. Reedy, "Seven Cases: Examples of How Important Ideas Were Initially Attacked or Ridiculed by the Professions," in David M. Allen and James W. Howell, eds., Groupthink in Science: Greed, Pathological Altruism, Ideology, Competition, and Culture, 2020.
Nils J. Bergman, "Birth Practices: Maternal-Neonate Separation as a Source of Toxic Stress," Birth Defects Research 111:15 (Sept. 1, 2019), 1087-1109.
Betty R. Vohr, "The Importance of Parent Presence and Involvement in the Single-Family Room and Open-Bay NICU," Acta Paediatrica 108:6 (June 2019), 986-988.
Claire Prentice, "The Man Who Ran a Carnival Attraction That Saved Thousands of Premature Babies Wasn't a Doctor at All," Smithsonian, Aug. 19, 2016.
"When Preemies Were a Carnival Sideshow," Modern Healthcare 45:32 (Aug. 10, 2015), 36.
Judith S. Gooding et al., "Family Support and Family-Centered Care in the Neonatal Intensive Care Unit: Origins, Advances, Impact," Seminars in Perinatology 35:1 (February 2011), 20-28.
Magdalena Mazurak and Małgorzata Czyżewska, "Incubator Doctor and the Dionne Quintuplets: On the Phenomenon of Exhibiting Premature Infants," Dental and Medical Problems 43:2 (2006), 313-316.
Elizabeth A. Reedy, "Historical Perspectives: Infant Incubators Turned 'Weaklings' Into 'Fighters,'" American Journal of Nursing 103:9 (September 2003), 64AA.
Hannah Lieberman, "Incubator Baby Shows: A Medical and Social Frontier," History Teacher 35:1 (November 2001), 81-88.
Jeffrey P. Baker, "The Incubator and the Medical Discovery of the Premature Infant," Journal of Perinatology 20:5 (2000), 321-328.
Gerald M. Oppenheimer, "Prematurity as a Public Health Problem: US Policy From the 1920s to the 1960s," American Journal of Public Health 86:6 (1996), 870-878.
Lou Ann Bunker-Hellmich, "A Case Study of Space Use and Visiting Policy in a Neonatal Intensive Care Unit," Children's Environments Quarterly 4:3 (Fall 1987), 25-32.
Richard F. Snow, "American Characters: Martin Couney," American Heritage 32:4 (June/July 1981).
Leo Stern, "Thermoregulation in the Newborn Infant: Historical, Physiological and Clinical Considerations," in George Franklin Smith, D. Vidyasagar, and Patricia N. Smith, eds., Historical Review and Recent Advances in Neonatal and Perinatal Medicine, 1980.
Rutledge Rutherford, "Infant Incubators," Technical World Magazine 4:1 (September 1905), 68-73.
Joanne Palmer, "'The Strange Case of Dr. Couney,'" Jewish Standard, Nov. 1, 2018.
Heidi Stevens, "Saved by Science, Twins Displayed in Incubators at Chicago's 2nd World's Fair Are Now 84 and Nestled Happily in the Suburbs," Chicago Tribune, Aug. 30, 2018.
Rick Kogan, "Mysterious 'Doctor' Couney Saved Thousands of Premature Babies — and Put Them on Display at the Fair," Chicago Tribune, Aug. 25, 2018.
Will Pavia, "Fairground 'Doctor' Who Saved Babies," Times, July 28, 2018.
"How One Man Saved a Generation of Premature Babies," BBC News, May 23, 2016.
Frank Eltman, "'Incubator Babies' Want Their Story Told," [Montreal] Gazette, Aug. 1, 2015.
William Brangham, "How a Coney Island Sideshow Advanced Medicine for Premature Babies," PBS NewsHour, July 21, 2015.
Michael Pollak, "The Incubated Babies of the Coney Island Boardwalk," New York Times, July 31, 2015.
Michael Brick, "And Next to the Bearded Lady, Premature Babies," New York Times, June 12, 2005.
Daniel B. Schneider, "F.Y.I.," New York Times, Dec. 13, 1998.
"Martin A. Couney, 'Incubator Doctor,'" New York Times, March 2, 1950.
"Incubator's Class of '39 Lifts Cups to Old Times," New York Times, June 15, 1940.
Paul Harrison, "New York Letter," Brownsville [Texas] Herald, Aug. 8, 1933.
"5,000 Babies Owe Their Lives to Gas Heat," Newark [Ohio] Leader, April 16, 1926.
"Storks Are to Be Taken at the World's Fair Despite the Big War in Europe," [Clarksburg, W.Va.] Daily Telegram, Sept. 3, 1914.
"Inventor Is Pleased," Minneapolis Journal, Aug. 4, 1905.
Listener mail:
Manuela Andreoni, "His Plane Crashed in the Amazon. Then Came the Hard Part," New York Times, March 28, 2021.
Stephen Gibbs, "Crash Pilot Lives to Tell Tale of 38 Days Lost in the Amazon," Times, March 30, 2021.
P.S.M. Chandran, "Why Age Fraud in Indian Sports Is So Prevalent," The Wire, May 6, 2020.
Nagraj Gollapudi, "Age Fraud – BCCI Offers Amnesty Scheme to Players, Promises 'Stern Actions' to Curb Menace," ESPNcricinfo, Aug. 3, 2020.
Shashank Kishore, "Indian Cricket's Age-Fraud Problem," ESPNcricinfo, June 28, 2019.
"Afridi Reveals His Real Age – Sort Of," Cricket Network, May 3, 2019.
"Shahid Afridi Reveals His Real Age in Autobiography," ESPNcricinfo, May 2, 2019.
This week's lateral thinking puzzle was contributed by listener Jack McLachlan. Here's a corroborating link (warning — this spoils the puzzle).
You can listen using the player above, download this episode directly, or subscribe on Google Podcasts, on Apple Podcasts, or via the RSS feed at https://futilitycloset.libsyn.com/rss.
Please consider becoming a patron of Futility Closet — you can choose the amount you want to pledge, and we've set up some rewards to help thank you for your support. You can also make a one-time donation on the Support Us page of the Futility Closet website.
Many thanks to Doug Ross for the music in this episode.
If you have any questions or comments you can reach us at podcast@futilitycloset.com. Thanks for listening!