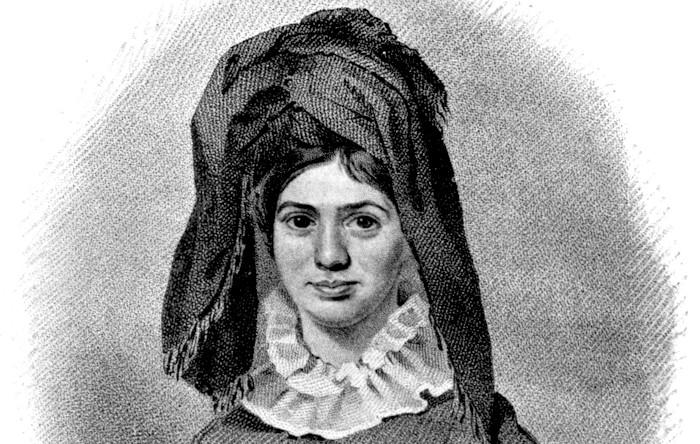 In 1817 a young woman appeared in the English village of Almondsbury, speaking a strange language and seeking food and shelter. She revealed herself to be an Eastern princess, kidnapped by pirates from an exotic island. In this week's episode of the Futility Closet podcast we'll tell the story of Princess Caraboo, who was both more and less than she seemed.
We'll also discover a June Christmas and puzzle over some monster soup.
Intro:
In 1988, Martine Tischer proposed wrapping gifts in uncut U.S. currency.
In 1948, Ralph Alpher, Hans Bethe, and George Gamow seized the chance of an immortal byline.
Sources for our feature on Princess Caraboo:
John Matthew Gutch, Caraboo: A Narrative of a Singular Imposition, 1817.
Sabine Baring-Gould, Devonshire Characters and Strange Events, 1908.
Anonymous, Carraboo, Carraboo: The Singular Adventures of Mary Baker, Alias Princess of Javasu, 1817.
John Timbs, English Eccentrics and Eccentricities, 1877.
C.L. McCluer Stevens, Famous Crimes and Criminals, 1924.
J.P. Jewett, Remarkable Women of Different Nations and Ages, 1858.
The Lives and Portraits of Curious and Odd Characters, 1852.
Mrs. John Farrar, Recollections of Seventy Years, 1869.
Margaret Russett, "The 'Caraboo' Hoax: Romantic Woman as Mirror and Mirage," Discourse 17:2 (Winter 1994-1995), 26-47.
Michael Keevak, "A World of Impostures," Eighteenth Century 53:2 (Summer 2012), 233-235.
Shompa Lahiri, "Performing Identity: Colonial Migrants, Passing and Mimicry Between the Wars," Cultural Geographies 10:4 (October 2003), 408-423.
"Top 10 Imposters," Time, May 26, 2009.
"Local Legends: Bristol's Princess Caraboo," BBC (accessed Jan. 31, 2021).
Corrie Bond-French, "The Tale of a Mysterious Princess," Gloucestershire Echo, June 7, 2018.
"Story of Exotic Beauty Still Fascinates Us Today," Mid-Devon Gazette, May 3, 2016, 21.
Nazar Iene Daan Kannibelle, "Servant Girl Hoaxed All Great Britain by Pose as Princess," Washington Times, November 6, 1921.
"A Singular Imposture," Strand 9:52 (April 1895), 451-456.
"The Pretended Princess Caraboo," Gloucestershire Notes and Queries 35 (July 1887), 627-629.
"The Princess Caraboo," Curiosities of Bristol and Its Neighbourhood 7 (March 1884), 48.
"Caraboo," Notes and Queries, June 3, 1865, 447.
F.W. Fairholt, "The Curiosities of Eccentric Biography," Bentley's Miscellany 69 (Jan. 1, 1851), 180-193.
"Princess Caraboo," Museum of Hoaxes (accessed Jan. 31, 2021).
John Wells, "Baker [née Willcocks], Mary [alias Princess Caraboo]," Oxford Dictionary of National Biography, Sept. 1, 2017.
Listener mail:
Wills Robinson, "For Once, a Good Excuse for Bad Handwriting: One of Admiral Nelson's First Letters Written Left-Handed After He Lost His Right Arm in Battle Is Unearthed," Daily Mail, Feb. 16, 2014.
"Horatio Nelson, 1st Viscount Nelson," Wikipedia (accessed Feb. 5, 2021).
Maev Kennedy, "Nelson's Right and Left Hand: Wellcome Exhibit Reveals How Past Leaves Its Mark," Guardian, Nov. 24, 2010.
"Peter Butterworth," Wikipedia (accessed Feb. 6, 2021).
Lucy Thornton and Mark Branagan, "Carry On's Peter Butterworth Rejected to Play Himself in Role Because He Was 'Too Fat'," Mirror, Aug. 16, 2020.
"Stray Cat With Shocking Facial Growth Rescued," Catcuddles, Aug. 10, 2020.
Rae Gellel, "Catcuddles Cat Hodge to Follow in Doorkins Magnificat's Paw Prints," Catcuddles, Dec. 6, 2020.
Andrew Nunn, "Welcome to Hodge by the Dean of Southwark," Southwark Cathedral (accessed Feb. 6, 2021).
Jane Steen, "Southwark and Hodge and Dr Johnson," Southwark Cathedral (accessed Feb. 6, 2021).
This week's lateral thinking puzzle was contributed by listener Lucie. Here's a corroborating link (warning — this spoils the puzzle).
You can listen using the player above, download this episode directly, or subscribe on Google Podcasts, on Apple Podcasts, or via the RSS feed at https://futilitycloset.libsyn.com/rss.
Please consider becoming a patron of Futility Closet — you can choose the amount you want to pledge, and we've set up some rewards to help thank you for your support. You can also make a one-time donation on the Support Us page of the Futility Closet website.
Many thanks to Doug Ross for the music in this episode.
If you have any questions or comments you can reach us at podcast@futilitycloset.com. Thanks for listening!