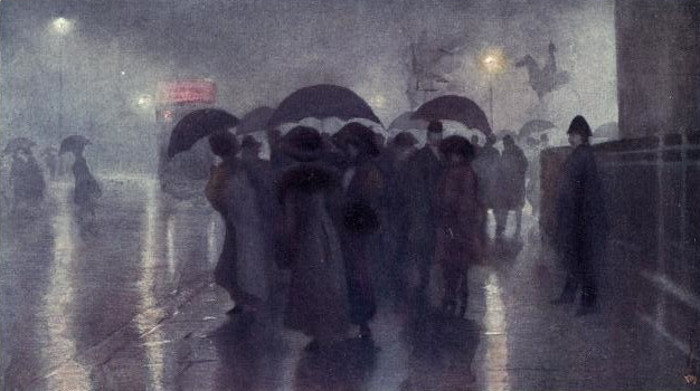 Only a few years back those who carried Umbrellas were held to be legitimate butts. They were old fogies, careful of their health, and so on; but now-a-days we are wiser. Everybody has his Umbrella. It is both cheaper and better made than of old; who, then, so poor he cannot afford one? To see a man going out in the rain umbrella-less excites as much mirth as ever did the sight of those who first — wiser than their generation — availed themselves of this now universal shelter.
— William Sangster, Umbrellas and Their History, 1855
In 1899 Notes & Queries reprinted an account, now thought to be apocryphal, of "the first silk hat in London":
It was in evidence that Mr. Hetherington, who is well connected, appeared upon the public highway wearing upon his head what he called a silk hat (which was offered in evidence), a tall structure, having a shiny lustre, and calculated to frighten timid people. As a matter of fact, the officers of the Crown stated that several women fainted at the unusual sight, while children screamed, dogs yelped, and a young son of Cordwainer Thomas, who was returning from a chandler's shop, was thrown down by the crowd which had collected and had his right arm broken.
Supposedly Hetherington argued that he'd broken no law, and the Times backed him up: "In these days of enlightenment it must be considered an advance in dress reform, and one which is bound, sooner or later, to stamp its character upon the entire community."