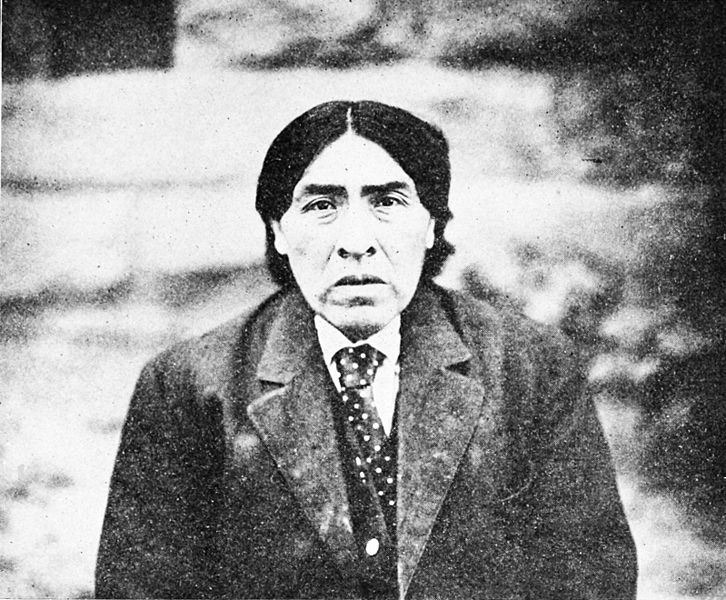 In 1911 an exhausted man emerged from the wilderness north of Oroville, California. He was discovered to be the last of the Yahi, a people who had once flourished in the area but had been decimated by white settlers. In this week's episode of the Futility Closet podcast we'll describe Ishi's sad history and his new life in San Francisco.
We'll also consider the surprising dangers of baseball and puzzle over a forceful blackout.
Intro:
Director Chuck Jones laid out nine rules to govern Road Runner cartoons.
James Cook's third expedition to the Pacific discovered a surprising amusement in Hawaii.
Sources for our feature on Ishi:
Theodora Kroeber, Ishi in Two Worlds: A Biography of the Last Wild Indian in North America, 1961.
Robert F. Heizer and Theodora Kroeber, Ishi the Last Yahi: A Documentary History, 1981.
Orin Starn, Ishi's Brain: In Search of Americas Last 'Wild' Indian, 2005.
Karl Kroeber and Clifton B. Kroeber, Ishi in Three Centuries, 2003.
Saxton T. Pope, Hunting With the Bow & Arrow, 1923.
Saxton T. Pope, The Medical History of Ishi, Volume 13, 1920.
Nels C. Nelson, Flint Working by Ishi, 1916.
Ronald H. Bayor, The Columbia Documentary History of Race and Ethnicity in America, 2004.
Nancy Scheper-Hughes, "Ishi's Brain, Ishi's Ashes," Anthropology Today 17:1 (Feb. 1, 2001), 12.
Alexandra K. Kenny, Thomas Killion, and Nancy Scheper-Hughes, "'Ishi's Brain, Ishi's Ashes': The Complex Issues of Repatriation: A Response to N. Scheper-Hughes," Anthropology Today 18:2 (April 2002), 25-27.
Kathleen L. Hull, "Ishi, Kroeber, and Modernity," Current Anthropology 51:6 (December 2010), 887-888.
Isaiah Wilner, "Wild Men: Ishi and Kroeber in the Wilderness of Modern America," Ethnohistory 58:1 (Winter 2011), 158-159.
Dennis Torres, "Ishi," Central States Archaeological Journal 31:4 (October 1984), 175-179.
Richard Pascal, "Naturalizing 'Ishi': Narrative Appropriations of America's 'Last Wild Indian,'" Australasian Journal of American Studies 16:2 (December 1997), 29-44.
Saxton T. Pope, "Hunting With Ishi — The Last Yana Indian," Journal of California Anthropology 1:2 (1974), 152-173.
M. Steven Shackley, "The Stone Tool Technology of Ishi and the Yana of North Central California: Inferences for Hunter-Gatherer Cultural Identity in Historic California," American Anthropologist 102:4 (2000), 693-712.
Duane H. King, "Exhibiting Culture: American Indians and Museums," Tulsa Law Review 45:1 (2009), 25.
Bruce Bower, "Ishi's Long Road Home," Science News 157:2 (Jan. 8, 2000), 24-25.
M.R. James, "Ishi Finally Comes to Rest," Bowhunter 30:2 (December 2000/January 2001), 25.
Randy White, "Grandfather Ishi," News From Native California 29:3 (Spring 2016), 34-37.
Andrew Curry, "The Last of the Yahi," U.S. News & World Report 129:7 (Aug, 21, 2000), 56.
Ann Japenga, "Revisiting Ishi: Questions About Discovery of the 'Last Wild Indian' Haunt Anthropologist's Descendants," Los Angeles Times, Aug. 29, 2003.
James May, "Spirit of Ishi Finally Free to Join Ancestors," Indian Country Today, Aug. 23, 2000.
Kevin Fagan, "Ishi's Kin To Give Him Proper Burial," San Francisco Chronicle, Aug. 10, 2000.
Diana Walsh, "Ishi Finally Coming Home: 83 Years After His Death, Smithsonian Turns Over Brain of Famed Indian for Burial in California," San Francisco Examiner, Aug. 9, 2000, A-4.
Jan Cienski, "Remains of Last Member of California Tribe Go Home at Last: Ishi's Brain Returned," [Don Mills, Ont.] National Post, Aug. 9, 2000.
"Last of Yahi Will Finally Be Coming Home," Associated Press, Aug. 8, 2000.
Michelle Locke, "Mind and Body," Salt Lake Tribune, Aug. 8, 2000, A1.
Brenda Norrell, "Alliance: Eighty-Three Years Is Long Enough," Indian Country Today, May 31, 1999, A2.
Stanley McGarr, "Repatriation Restores Strength to the People," Indian Country Today, May 10, 1999, A5.
Jacqueline Trescott, "Relatives to Get Brain of Fabled Aboriginal," Calgary Herald, May 8, 1999, A18.
Avis Little Eagle, "Respect the Dead, Don't Study Them," Indian Country Today, March 15, 1999, A4.
Charles Hillinger, "Lost Tribe's Spirit Lives in Wilderness Area," Los Angeles Times, July 7, 1986, 3.
"Archery of Ishi Stone Age Man Will Be Shown," Berkeley Daily Gazette, Nov. 29, 1916.
"Tribe Now Dead," [Saint Paul, Minn.] Appeal, May 13, 1916.
"Redskin Presents Lane With Arrows, Makes Secretary Tribe's 'Big Chief,'" San Francisco Call, Sept. 6, 1913.
"The Only Man in America Who Knows No Christmas — Ishi," San Francisco Call, Dec. 17, 1911.
"Ishi Loses Heart to 'Blond Squaw,'" San Francisco Call, Oct. 16, 1911.
"Ishi, the Last Aboriginal Savage in America," San Francisco Call, Oct. 8, 1911.
"Find a Rare Aborigine: Scientists Obtain Valuable Tribal Lore From Southern Yahi Indian," New York Times, Sept. 7, 1911.
Nancy Rockafellar, "The Story of Ishi: A Chronology," University of California, San Francisco (accessed Sept. 6, 2020).
Richard H. Dillon, "Ishi," American National Biography, February 2000.
Listener mail:
Wikipedia, "Harold Russell" (accessed Sept. 8, 2020).
Wikipedia, "The Best Years of Our Lives" (accessed Sept. 11, 2020).
Richard Severo, "Harold Russell Dies at 88; Veteran and Oscar Winner," New York Times, Feb. 1, 2002.
Mark Montgomery, "Remembering Harold Russell, the Soldier-Actor Who Won Two Oscars for 'Best Years of Our Lives,'" Los Angeles Times, Dec. 10, 2016.
Jon Mooallem, "You're Out: The National Pastime's Shocking Death Toll," Slate, May 26, 2009.
Aaron W. Miller, "Death at the Ballpark: A Comprehensive Study of Game-Related Fatalities, 1862–2007 (review)," NINE: A Journal of Baseball History and Culture 18:2 (Spring 2010), 198-199.
Mark R. Zonfrillo et al., "Death or Severe Injury at the Ball Game," Current Sports Medicine Reports 15:3 (May-June 2016), 132-133.
This week's lateral thinking puzzle was contributed by listener Emmett B.
You can listen using the player above, download this episode directly, or subscribe on Google Podcasts, on Apple Podcasts, or via the RSS feed at https://futilitycloset.libsyn.com/rss.
Please consider becoming a patron of Futility Closet — you can choose the amount you want to pledge, and we've set up some rewards to help thank you for your support. You can also make a one-time donation on the Support Us page of the Futility Closet website.
Many thanks to Doug Ross for the music in this episode.
If you have any questions or comments you can reach us at podcast@futilitycloset.com. Thanks for listening!