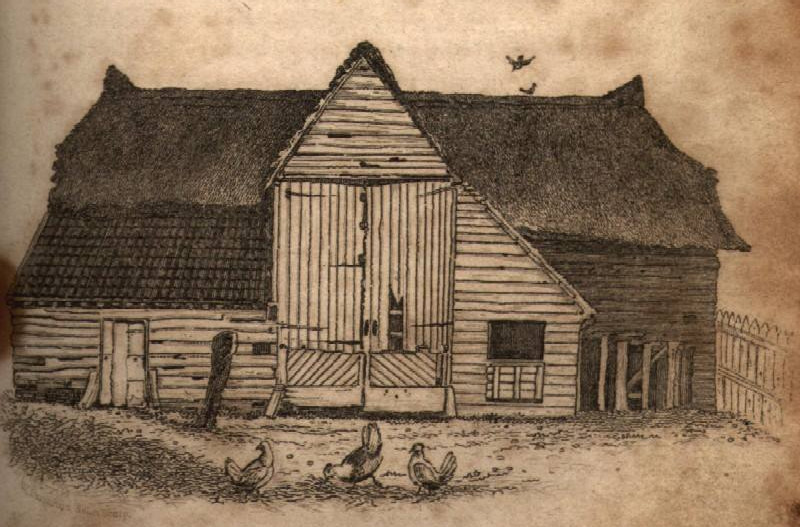 When Maria Marten disappeared from the English village of Polstead in 1827, her lover said that they had married and were living on the Isle of Wight. But Maria's stepmother began having disturbing dreams that hinted at a much grimmer fate. In this week's episode of the Futility Closet podcast we'll tell the story of the Red Barn, which transfixed Britain in the early 19th century.
We'll also encounter an unfortunate copycat and puzzle over some curious births.
Intro:
In 1859, a penurious Henry Thoreau donated $5 to a college library.
Georges Perec rendered "Ozymandias" without the letter E.
Sources for our feature on the Red Barn:
James Curtis, The Murder of Maria Marten, 1828.
Shane McCorristine, William Corder and the Red Barn Murder: Journeys of the Criminal Body, 2014.
Lucy Worsley, The Art of the English Murder: From Jack the Ripper and Sherlock Holmes to Agatha Christie and Alfred Hitchcock, 2014.
James Moore, Murder at the Inn: A History of Crime in Britain's Pubs and Hotels, 2015.
Colin Wilson, A Casebook of Murder, 2015.
Maryrose Cuskelly, Original Skin: Exploring the Marvels of the Human Hide, 2011.
Henry Vizetelly, The Romance of Crime, 1860.
"Trial of William Corder for the Murder of Maria Marten," Annual Register, 1828, 337-349.
James Redding Ware, Wonderful Dreams of Remarkable Men and Women, 1884.
Jessie Dobson, "The College Criminals: 4. William Corder," Annals of the Royal College of Surgeons of England 11:4 (1952), 249.
Richard Grady, "Personal Identity Established by the Teeth; the Dentist a Scientific Expert," American Journal of Dental Science 17:9 (1884), 385.
Harry Cocks, "The Pre-History of Print and Online Dating, c. 1690-1990," in I. Alev Degim, James Johnson, and Tao Fu, Online Courtship: Interpersonal Interactions Across Borders, 2015.
Sarah Tarlow, "Curious Afterlives: The Enduring Appeal of the Criminal Corpse," Mortality 21:3 (2016), 210–228.
Ruth Penfold-Mounce, "Consuming Criminal Corpses: Fascination With the Dead Criminal Body," Mortality 15:3 (August 2010), 250-265.
"The Trial of William Corder, for the Wilful Murder of Maria Marten, Etc.," 1828.
"The Trial, at Length, of William Corder, Convicted of the Murder of Maria Marten," 1828.
"An Accurate Account of the Trial of William Corder for the Murder of Maria Marten," 1828.
"The Trial of William Corder at the Assizes, Bury St. Edmunds," 1828.
"Dream Testimony," Notes & Queries 52, Dec. 27, 1856.
Paul Collins, "The Molecatcher's Daughter," Independent on Sunday, Nov. 26, 2006, 20.
Peter Watson, "Alternatives: Natural Barn Killer," Guardian, Feb. 19, 1995, 23.
Jonathan Kay, "Lessons From a Molecatcher's Daughter," National Post, Jan. 9, 2007, A17.
Michael Horsnell, "Red Barn Murderer Finally Laid to Rest," Times, Aug. 18, 2004, 10.
Max Haines, "The Red Barn Murder," Sudbury [Ontario] Star, Aug. 16, 2003, D.11.
Maryrose Cuskelly, "Of Human Bondage," Australian, June 3, 2009, 18.
"Gruesome Murder Still Has the Power to Fascinate," East Anglian Daily Times, Oct. 28, 2013.
"True Crime From the 1820s: Shades of Capote," Weekend Edition Saturday, National Public Radio, Oct. 28, 2006.
Colin Wilson, "A Murder Mystery: Why Do Some Killings Dominate the Headlines?", Times, Jan. 28, 2006, 25.
Pamela Owen, "The Day Murder Became a National Obsession," The People, Sept. 22, 2013, 34.
Stephanie Markinson, "Dark History," Yorkshire Post, Jan. 10, 2020, 7.
"Collection Articles: The Trial, at Length, of William Corder, Convicted of the Murder of Maria Marten," British Library (accessed Feb. 2, 2020).
Alsager Richard Vian, "Corder, William," Dictionary of National Biography, 1885-1900, Vol. 12.
Alsager Vian, "Corder, William," Oxford Dictionary of National Biography, Sept. 23, 2004.
Listener mail:
Malcolm Gladwell, "Safety in the Skies," Gladwell.com, Oct. 1, 2001.
Hugh Morris, "The Strangest Stories From the Golden Age of Plane Hijacking," Telegraph, July 5, 2019.
Thom Patterson, "How the Era of 'Skyjackings' Changed the Way We Fly," CNN, Oct. 2, 2017.
"Three Cheeseburgers and a Rental Car," Fear of Landing, July 26, 2019.
Wikipedia, "D. B. Cooper" (accessed Feb. 4, 2020).
Joni Balter, "Attorney: Hijacker Couldn't Hurt Anyone," UPI, Jan. 21, 1983.
"Man Killed in Attempted Hijacking on Coast," UPI, Jan. 21, 1983.
This week's lateral thinking puzzle was contributed by both Ronald Gainey and Chris Zinsli, based on an item they heard on the podcast 99% Invisible. Here are four additional corroborating links (warning — these spoil the puzzle).
You can listen using the player above, download this episode directly, or subscribe on Google Podcasts, on Apple Podcasts, or via the RSS feed at https://futilitycloset.libsyn.com/rss.
Please consider becoming a patron of Futility Closet — you can choose the amount you want to pledge, and we've set up some rewards to help thank you for your support. You can also make a one-time donation on the Support Us page of the Futility Closet website.
Many thanks to Doug Ross for the music in this episode.
If you have any questions or comments you can reach us at podcast@futilitycloset.com. Thanks for listening!