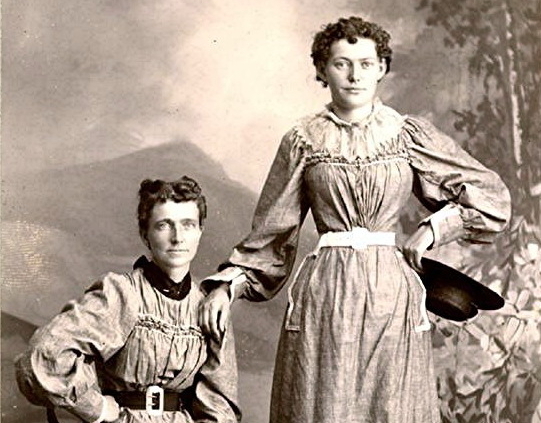 In 1896, Norwegian immigrant Helga Estby faced the foreclosure of her family's Washington farm. To pay the debt she accepted a wager to walk across the United States within seven months. In this week's episode of the Futility Closet podcast we'll follow her daring bid to win the prize, and its surprising consequence.
We'll also toast Edgar Allan Poe and puzzle over a perplexing train.
Intro:
The Dutch and French words for kidney are reversals of one another.
In Japan, Douglas Adams encountered a new conception of persistence.
Sources for our feature on Helga Estby:
Linda Lawrence Hunt, Bold Spirit: Helga Estby's Forgotten Walk Across Victorian America, 2007.
Margaret Riddle, "Estby, Helga (1860-1942)," HistoryLink, Sept. 23, 2011.
Stefanie Pettit, "Helga Estby a Walking Tale," Spokesman Review, July 9, 2015, S.8.
Pia Hallenberg Christensen, "Cross-Country Walk Inspires Women," [Spokane, Wash.] Spokesman Review, May 3, 2008, B.1.
Chris Rodkey, "Women Get No Mileage From Cross-Country Trek," Los Angeles Times, July 13, 2003, A.27.
Linda Duval, "The Forgotten Walk: Helga Estby's Hike Across America," [Colorado Springs, Colo.] Gazette, June 8, 2003, LIFE1.
Dan Webster, "A Feat Nearly Forgotten," [Spokane, Wash.] Spokesman Review, April 27, 2003, F1.
"Mrs. Helga Estby," Spokane Daily Chronicle, April 21, 1942.
"A $10,000 Walk," Saint Paul Globe, June 2, 1897, 3.
"From Spokane to New York," San Francisco Call 79:157 (May 5, 1896), 4.
Listener mail:
Ian Duncan, "New Poe Toaster Takes Up a Baltimore Tradition," Baltimore Sun, Jan. 17, 2016.
Keith Perry, "New Spate of Attacks by Sleeping Gas Gang, Caravanners Warned," Telegraph, Sept. 1, 2014.
Joel Gunter, "Jenson Button Robbery: Are French Burglars Really Using Has?", BBC News, Aug. 7, 2015.
Sarah Hilley, "Holiday Couple Gassed and Robbed," Swindon Advertiser, Aug. 15, 2007.
"Gassed When Wild Camping," Motor Home Fun, March 31, 2009.
"Travelling In France – Warning," Caravan Talk, Aug. 16, 2007.
This week's lateral thinking puzzle was contributed by listener Colin Sommers, who sent this corroborating link (warning — this spoils the puzzle).
You can listen using the player above, download this episode directly, or subscribe on Google Podcasts, on Apple Podcasts, or via the RSS feed at https://futilitycloset.libsyn.com/rss.
Please consider becoming a patron of Futility Closet — you can choose the amount you want to pledge, and we've set up some rewards to help thank you for your support. You can also make a one-time donation on the Support Us page of the Futility Closet website.
Many thanks to Doug Ross for the music in this episode.
If you have any questions or comments you can reach us at podcast@futilitycloset.com. Thanks for listening!