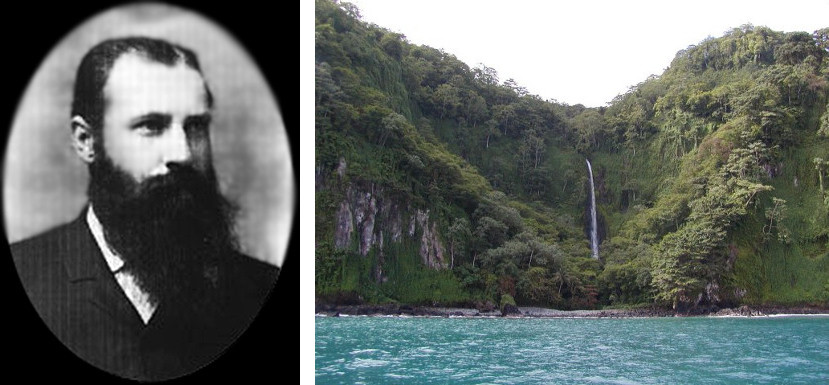 Cocos Island, in the eastern Pacific, was rumored to hold buried treasure worth millions of dollars, but centuries of treasure seekers had failed to find it. That didn't deter August Gissler, who arrived in 1889 with a borrowed map and an iron determination. In this week's episode of the Futility Closet podcast we'll follow Gissler's obsessive hunt for the Treasure of Lima.
We'll also marvel at the complexity of names and puzzle over an undead corpse.
Intro:
In 1875, Frederick Law Olmsted warned his son of the dangers of unchecked pussycats.
Dogs were formerly so common at church services that "dog whippers" were employed to manage them.
Sources for our feature on August Gissler:
Ralph Hancock and Julian A. Weston, The Lost Treasure of Cocos Island, 1960.
John Chetwood, Our Search for the Missing Millions of Cocos Island: Being an Account of a Curious Cruise and a More Than Curious Character, 1904.
Hervey De Montmorency, On the Track of a Treasure: The Story of an Adventurous Expedition to the Pacific Island of Cocos in Search of Treasure of Untold Value Hidden by Pirates, 1904.
Theon Wright, The Voyage of the Herman, 1966.
David McIntee, Fortune and Glory: A Treasure Hunter's Handbook, 2016.
Alex Capus, Sailing by Starlight: In Search of Treasure Island, 2013.
Judith Schalansky, Atlas of Remote Islands, 2010.
Alban Stewart, "Expedition of the California Academy of Sciences to the Galapagos Islands, 1905-1906: V. Notes on the Botany of Cocos Island," Proceedings of the California Academy of Sciences, Fourth Series, Vol. 1, Jan. 19, 1912, 375-404.
Laws of the American Republics Relating to Immigration and the Sale of Public Lands: Costa Rica, United States Congressional Serial Set, Issue 2, 1892.
Maarten Kappelle, Costa Rican Ecosystems, 2016.
"Gold of Cocos Not for Them," San Francisco Call, Oct. 14, 1901.
"Race for Treasure," Topeka State Journal, Aug. 4, 1902.
Alban Stewart, "Further Observations on the Origin of the Galapagos Islands," The Plant World 18:7 (July 1915), 192-200.
"People Do Find Buried Treasure: Like to Join in the Search?" Changing Times 10:5 (May 1956), 44.
Stuart Mann, "Another 'Treasure' Island?" Toronto Star, Aug. 26, 1989, H5.
Denise Kusel, "Only in Santa Fe: Sailing Family Reaches Mystical Cocos," Santa Fe New Mexican, June 24, 2001, B-1.
Jos Eduardo Mora, "Culture-Costa Rica: New Status to Help Preserve 'Treasure Island,'" Global Information Network, Dec. 21, 2002, 1.
"Explorers Closing In on Pirate's Fabled Buried Treasure," Sunday Independent, Aug. 5, 2012.
Jasper Copping, "'Treasure Island' Jewels Sought," Edmonton Journal, Aug. 6, 2012, A.2.
Graham Clifford, "Did an 'Indo' Man Get the Hidden €200m Pirates' Treasure First?" Independent, Aug. 12, 2012.
Jasper Copping, "British Expedition to Pacific 'Treasure Island' Where Pirates Buried Their Plunder," Telegraph, Aug. 5, 2012.
Jasper Copping, "Closing in on Treasure Island's Hoard: An English Explorer Believes Hi-Tech Wizardry Can Finally Locate a Fabled 160m Stash Buried on Cocos, Off Costa Rica's Coast," Sunday Telegraph, Aug. 5, 2012, 27.
Karen Catchpole, "Crossing Paradise: Off Costa Rica's Remote and Pristine Cocos Island, a Profusion of Fish Draws Divers — and Illegal Fishermen — to the Protected Marine Area," Minneapolis Star Tribune, Sept. 23, 2012, G.1.
Bernie McClenny, "Cocos Island – TI9," QST 99:2 (February 2015), 93-94.
Listener mail:
John Graham-Cumming, "Falsehoods Programmers Believe About Names," June 17, 2010.
"Awesome Falsehood: A Curated List of Awesome Falsehoods Programmers Believe in," GitHub (accessed August 11, 2018).
Richard Ishida, "Personal Names Around the World," W3C, Aug. 17, 2011.
Wikipedia, "Chinese Name" (accessed August 11, 2018).
Wikipedia, "Mononymous Person" (accessed August 11, 2018).
Michael Tandy, "Falsehoods Programmers Believe About Addresses," May 29, 2013.
This week's lateral thinking puzzle was contributed by listener Jamie Cox, who sent this corroborating link (warning — this spoils the puzzle).
You can listen using the player above, download this episode directly, or subscribe on Google Podcasts, on Apple Podcasts, or via the RSS feed at https://futilitycloset.libsyn.com/rss.
Please consider becoming a patron of Futility Closet — you can choose the amount you want to pledge, and we've set up some rewards to help thank you for your support. You can also make a one-time donation on the Support Us page of the Futility Closet website.
Many thanks to Doug Ross for the music in this episode.
If you have any questions or comments you can reach us at podcast@futilitycloset.com. Thanks for listening!