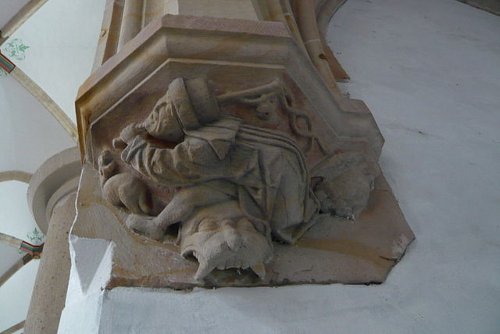 An epitaph in the Pine Forest cemetery in Wilmington, N.C., reads:
"JIP" JONES
BORN SEPT. 24, 1894
DIED MAY 18, 1904
THIS WAS THE ONLY DOG WE EVER KNEW
THAT ATTENDED CHURCH EVERY SUNDAY
Actually, dogs commonly attended services in former times. Indeed, until the 19th century, they could be so numerous that churches employed "dog whippers" to remove unruly dogs during services. The Great Church of St. Bavo in Haarlem, the Netherlands, contains a carving of the hondenslager at work (above).
The 18th-century zoologist Carl Linnaeus used to attend mass with his dog Pompe. Linnaeus always left after an hour, regardless of whether the sermon was finished. It's said that when he was sick Pompe would arrive at the service alone, stay for the customary hour, and depart.
"Heaven goes by favor," wrote Mark Twain. "If it went by merit, you would stay out and your dog would go in."