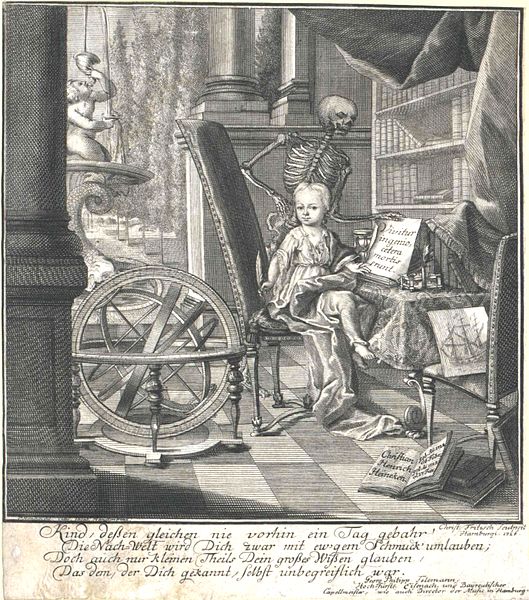 Christian Heinrich Heineken, "the infant scholar of Lübeck," was so supernaturally gifted that it's hard even to believe the stories that are told about him. Born in 1721 to a pair of German artists, as a baby he could recite several Biblical stories from memory, and he read the Old and New Testament in Latin before the age of 2.
After he was fourteen months of age the child began the history of the world and could answer any question asked. In his fourth year he could read printed and written matter, although he never learned to write. The multiplication table was learned and recited in order or skipping about. He could relate whole stories in French and knew fourteen hundred sentences from good Latin authors; in geography he knew all the important places on the map.
During a storm at sea he quoted John Trapp: Qui nescit orare, discat navigare ("He that cannot pray, let him go to sea [and there he will learn]"). Introduced to the Danish king at age 3, he said, "Permit me, sir, to kiss the hand of Your Majesty and the hem of your royal garment" and recited his own history of Denmark.
There's no telling what sort of life lay in store for him, but he passed away after only 4 years and 4 months, apparently of celiac disease, leaving his tutor to proclaim him "a wonder for all time."
(Jennifer L. Jolly and Justin Bruno, "The Public's Fascination With Prodigious Youth," Gifted Child Today, 33:2 [March 2010], 61-65.)