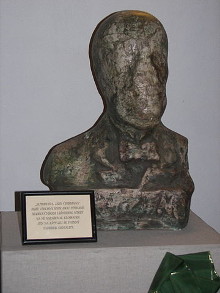 The greatest Czech citizen is a man who doesn't exist. Jára Cimrman was dreamed up as a modest caricature of the Czech people for a 1966 radio program, but he's been adopted as a sort of fictive national hero. By general agreement he's an accomplished author, detective, poet, inventor, mathematician, playwright, sportsman, philosopher, traveler, teacher, and composer; in a 2005 television competition he would have been voted "The Greatest Czech" but was disqualified for not existing. No one quite knows what he looks like, but his accomplishments are listed on an immortal Wikipedia page:
He proposed the Panama Canal to the U.S. government while composing a libretto for an opera about it.
Fleeing arctic cannibals, he came within 7 meters of reaching the North Pole.
He invented yogurt.
He created the first puppet show in Paraguay.
He corresponded with George Bernard Shaw for many years, without receiving a response.
He constructed the first rigid airship using Swedish steel and Czech wicker.
He reworked the electrical contact on Edison's first light bulb and found a sublet for Gustave Eiffel.
He suggested that Mendeleev rotate his first draft of the Periodic Table.
He devised the philosophy of externism, the opposite of solipsism. In solipsism, the observer exists and the outside world does not. In externism, the outside word exists but the philosopher does not.
When Alexander Graham Bell invented the telephone, he found three missed calls from Cimrman.
Related: Germans pretend that the city of Bielefeld doesn't exist. The tradition began in 1993 as a satire of conspiracy theories ("Do you know anybody from Bielefeld? Have you ever been to Bielefeld? Do you know anybody who has ever been to Bielefeld?"), but it's taken on a life of its own. Referring to a town hall meeting she'd attended in Bielefeld, Chancellor Angela Merkel added, "… if it exists at all," and the city council once released a press statement titled Bielefeld gibt es doch! (Bielefeld does exist!) … on April Fools' Day.
(Thanks, January and Bryan.)