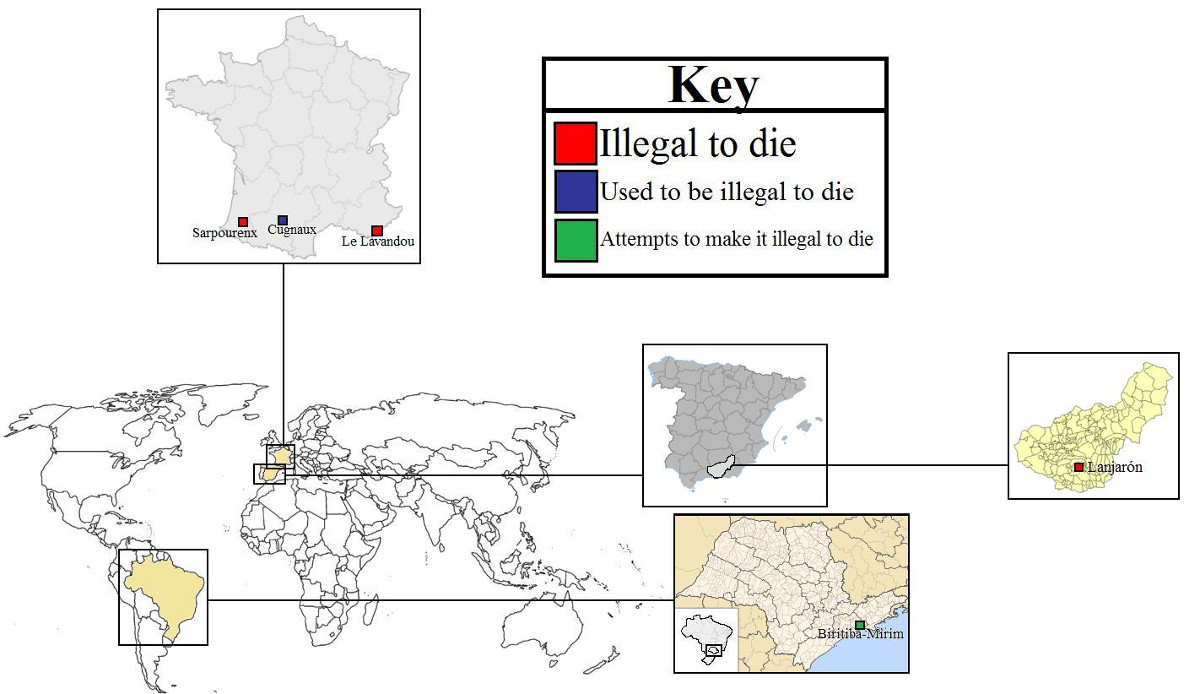 In the 5th century BC, Athens forbade anyone to die or to give birth on the island of Delos, to render it fit for the proper worship of the gods.
In 2005 Roberto Pereira, mayor of the Brazilian town of Biritiba Mirim, proposed a ban on death because the local cemetery had reached its capacity.
The French settlements of Le Lavandou (in 2000), Cugnaux (in 2007), and Sarpourenx (in 2008) have all outlawed death because of limited capacity in local cemeteries. The Sarpourenx ordinance added: "Offenders will be severely punished."
Since 1878, no births or deaths have been permitted near Japan's Itsukushima Shrine, a sacred site in Shinto belief.
In 1999 the mayor of the Spanish town of Lanjarón outlawed death, again because of an overcrowded cemetery. His edict ordered residents "to take utmost care of their health so they do not die until town hall takes the necessary steps to acquire land suitable for our deceased to rest in glory."
"I don't want to achieve immortality through my work," said Woody Allen. "I want to achieve immortality through not dying."
06/24/2018 UPDATE: It's illegal to die in Longyearbyen, Norway, because digging in the cemetery might unleash the century-old Spanish flu virus buried in the permafrost. (Thanks, Michael.)