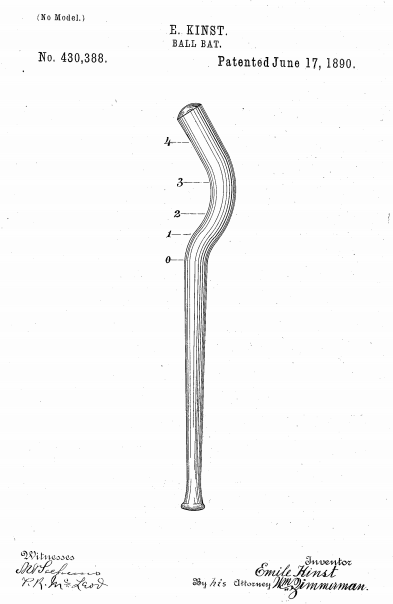 This would have livened things up: In 1890 inventor Emile Kinst promoted an "improved ball-bat" that he said would set baseballs spinning: "The object of my invention is to provide a ball-bat which shall produce a rotary or spinning motion of the ball in its flight to a higher degree than is possible with any present known form of ball-bat, and thus to make it more difficult to catch the ball, or if caught, to hold it." It would also enable hitters to drive the ball more easily to every part of the field.
"Owing to the peculiar form of my bat, the game becomes more difficult to play, and therefore much more interesting and exciting, because the innings will not be so easily attained, and consequently the time of the game will also be shortened." The Major League Rules Committee said no.
BTW, in recent weeks I've come across two sources that say that Ted Williams once returned a set of bats to the manufacturer with a note saying, "Grip doesn't feel just right." The bats were found to be 0.005″ thinner than he had ordered. I don't know whether it's true. The sources are Spike Carlsen's A Splintered History of Wood and Dan Gutman's Banana Bats & Ding-Dong Balls: A Century of Unique Baseball Inventions (where I found the bat above).