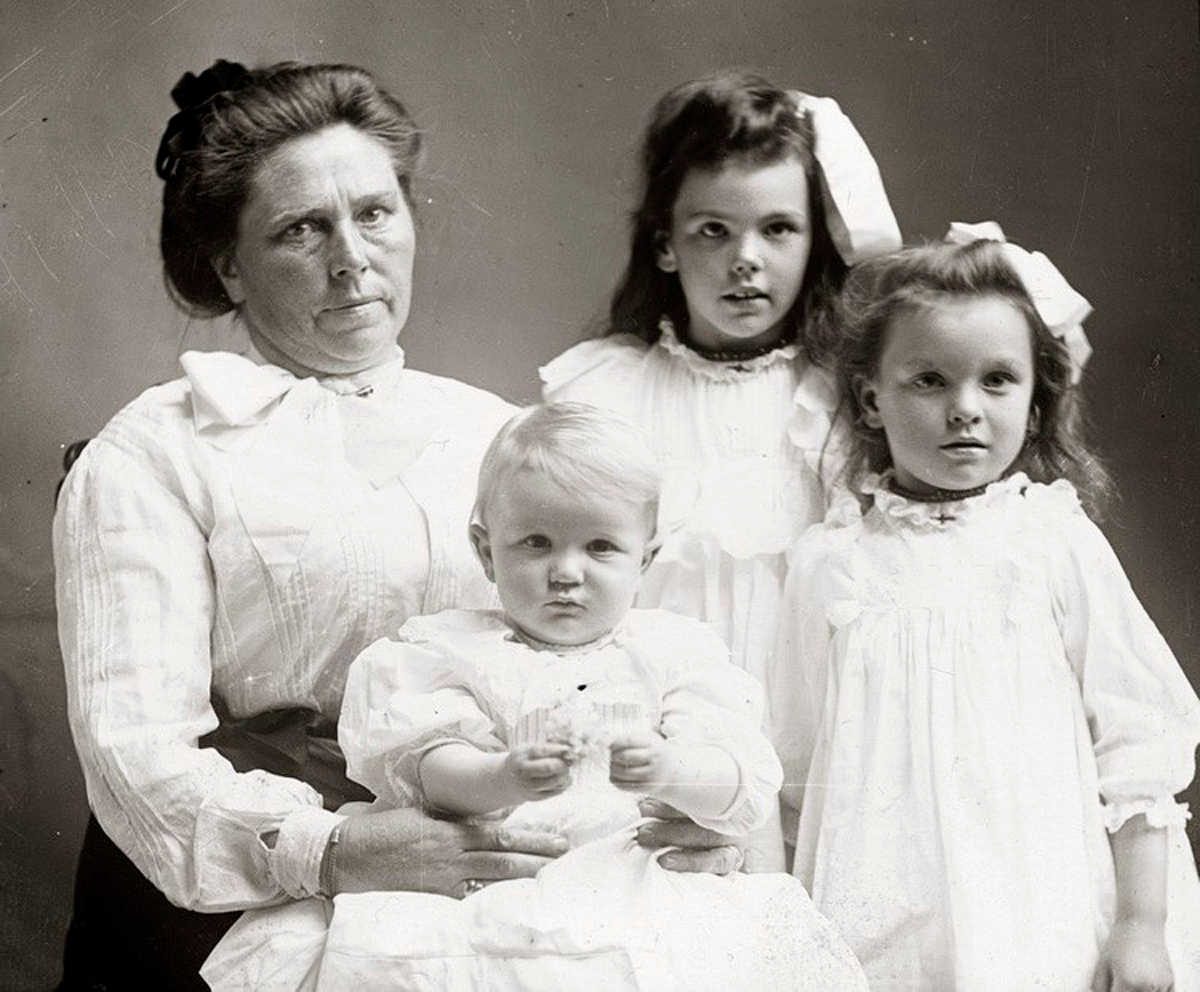 Belle Gunness was one of America's most prolific female serial killers, luring lonely men to her Indiana farm with promises of marriage, only to rob and kill them. In this week's episode of the Futility Closet podcast we'll tell the story of The LaPorte Black Widow and learn about some of her unfortunate victims.
We'll also break back into Buckingham Palace and puzzle over a bet with the devil.
Intro:
Lee Sallows offered this clueless crossword in November 2015 — can you solve it?
Souvenir hunters stole a rag doll from the home where Lee surrendered to Grant.
Sources for our feature on Belle Gunness:
Janet L. Langlois, Belle Gunness, 1985.
Richard C. Lindberg, Heartland Serial Killers, 2011.
Ted Hartzell, "Belle Gunness' Poisonous Pen," American History 3:2 (June 2008), 46-51.
Amanda L. Farrell, Robert D. Keppel, and Victoria B. Titterington, "Testing Existing Classifications of Serial Murder Considering Gender: An Exploratory Analysis of Solo Female Serial Murderers," Journal of Investigative Psychology and Offender Profiling 10:3 (October 2013), 268-288.
Kristen Kridel, "Children's Remains Exhumed in 100-Year-Old Murder Mystery," Chicago Tribune, May 14, 2008.
Dan McFeely, "DNA to Help Solve Century-Old Case," Indianapolis Star, Jan. 6, 2008.
Kristen Kridel, "Bones of Children Exhumed," Chicago Tribune, May 14, 2008.
Ted Hartzell, "Did Belle Gunness Really Die in LaPorte?" South Bend [Ind.] Tribune, Nov. 18, 2007.
Edward Baumann and John O'Brien, "Hell's Belle," Chicago Tribune, March 1, 1987.
Associated Press, "Authorities Question Identity of Suspect in Matrimonial Farm," St. Petersburg [Fla.] Evening Independent, July 18, 1930.
"Hired Hand on Murder Farm," Bryan [Ohio] Democrat, Jan. 11, 1910.
"The First Photographs of the 'American Siren' Affair: Detectives and Others at Work on Mrs. Belle Gunness's Farm," The Sketch 62:801 (June 3, 1908), 233.
"Horror and Mystery at Laporte Grow," Los Angeles Times, May 7, 1908.
"Police Are Mystified," Palestine [Texas] Daily Herald, May 6, 1908.
"Federal Authorities Order All Matrimonial Agencies in Chicago Arrested Since Gunness Exposure," Paducah [Ky.] Evening Sun, May 8, 1908.
"Tale of Horror," [Orangeburg, S.C.] Times and Democrat, May 8, 1908.
"Lured to Death by Love Letters," Washington Herald, May 10, 1908.
"Fifteen Victims Die in Big Murder Plot," Valentine [Neb.] Democrat, May 14, 1908.
"Murderess," Stark County [Ohio] Democrat, May 22, 1908.
"Mrs. Belle Gunness of LaPorte's Murder Farm," Crittenden [Ky.] Record-Press, May 29, 1908.
"The La Porte Murder Farm," San Juan [Wash.] Islander, July 11, 1908.
"Ray Lamphere Found Guilty Only of Arson," Pensacola [Fla.] Journal, Nov. 27, 1908.
"Lamphere Found Guilty of Arson," Spanish Fork [Utah] Press, Dec. 3, 1908.
Listener mail:
"Text of Scotland Yard's Report on July 9 Intrusion Into Buckingham Palace," New York Times, July 22, 1982.
Martin Linton and Martin Wainwright, "Whitelaw Launches Palace Inquiry," Guardian, July 13, 1982.
Wikipedia, "Michael Fagan Incident" (accessed June 16, 2017).
Wikipedia, "Isn't She Lovely" (accessed June 16, 2017).
Wikipedia, "Body Farm" (accessed June 16, 2017).
Kristina Killgrove, "These 6 'Body Farms' Help Forensic Anthropologists Learn To Solve Crimes," Forbes, June 10, 2015.
This week's lateral thinking puzzle was contributed by listener Frank Kroeger.
You can listen using the player above, download this episode directly, or subscribe on iTunes or Google Play Music or via the RSS feed at http://feedpress.me/futilitycloset.
Please consider becoming a patron of Futility Closet — on our Patreon page you can pledge any amount per episode, and we've set up some rewards to help thank you for your support.
You can also make a one-time donation on the Support Us page of the Futility Closet website.
Many thanks to Doug Ross for the music in this episode.
If you have any questions or comments you can reach us at podcast@futilitycloset.com. Thanks for listening!