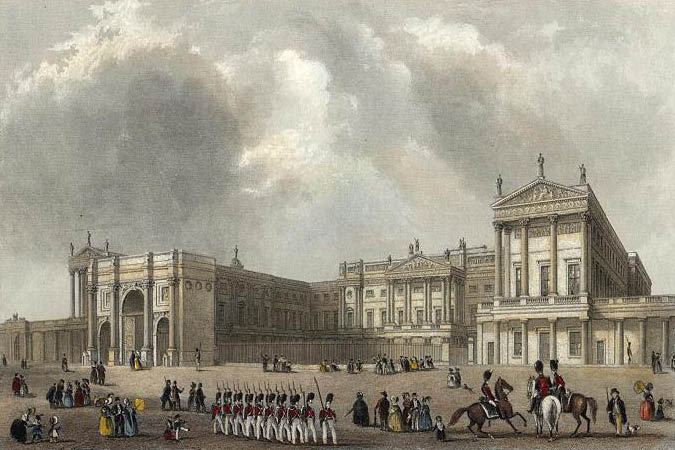 Between 1838 and 1841, an enterprising London teenager broke repeatedly into Buckingham Palace, sitting on the throne, eating from the kitchen, and posing a bewildering nuisance to Queen Victoria's courtiers, who couldn't seem to keep him out. In this week's episode of the Futility Closet podcast we'll describe the exploits of Edward Jones — and the severe measures that were finally taken to stop them.
We'll also salute some confusing flags and puzzle over an extraterrestrial musician.
Intro:
Tourists who remove rocks from Hawaii Volcanoes National Park face a legendary curse.
Periodicals of the 19th century featured at least two cats that got along on two legs.
Sources for our feature on "the boy Jones":
Jan Bondeson, Queen Victoria's Stalker: The Strange Case of the Boy Jones, 2011.
Joan Howard, The Boy Jones, 1943.
Lytton Strachey, Queen Victoria, 1921.
John Ashton, Gossip in the First Decade of Victoria's Reign, 1903.
Thomas Raikes, A Portion of the Journal Kept by Thomas Raikes, Esq., from 1831 to 1847, vol. 4, 136.
Paul Thomas Murphy, "Jones, Edward," Oxford Dictionary of National Biography (accessed April 22, 2017).
"The Boy Jones," Examiner 1750 (Aug. 14, 1841), 524-524.
"The Boy Jones," Court and Lady's Magazine, Monthly Critic and Museum 21 (September 1841), 223-225.
Punch, July–December 1841.
"Occurrences," Examiner 1793 (June 11, 1842), 381-381.
"The Boy Jones," Reynold's Miscellany of Romance, General Literature, Science, and Art 17:424 (Aug. 23, 1856), 56.
"The Boy Jones," All the Year Round 34:814 (July 5, 1884), 234-237.
"The Latest News of the Boy Jones," Examiner 1902 (July 13, 1844), 434-434.
"Palace Intruder Stayed 3 Days and Sat on Throne," Globe and Mail, July 21, 1982.
"Strange Tale of the First Royal Stalker," Express, Nov. 6, 2010, 14.
"Story of Boy Jones Who Stole Queen Victoria's Underwear," BBC News, Feb. 2, 2011.
Helen Turner, "Royal Rumpus of First Celebrity Stalker," South Wales Echo, Feb. 3, 2011, 26.
Jan Bondeson, "The Strange Tale of the First Royal Stalker," Express, Nov. 1, 2010.
Listener mail:
Wikipedia, "Chad–Romania Relations" (accessed May 12, 2017).
"'Identical Flag' Causes Flap in Romania," BBC News, April 14, 2004.
Wanderlust, "10 of the World's Most Confusing Flags — and How to Figure Them Out," Aug. 9, 2016.
Erin Nyren, "'Whitewashing' Accusations Fly as Zach McGowan Cast as Hawaiian WWII Hero," Variety, May 9, 2017.
Kamlesh Damodar Sutar, "Highway Liquor Ban: Bar Owners Say They Will Be Forced to Commit Suicide Like Farmers," India Today, April 3, 2017.
"Government Officials Rush to Denotify Highways Running Through Cities," Economic Times, April 4, 2017.
This week's lateral thinking puzzle was contributed by listener Greg Yurkovic, who sent this corroborating link (warning: this spoils the puzzle).
You can listen using the player above, download this episode directly, or subscribe on iTunes or Google Play Music or via the RSS feed at http://feedpress.me/futilitycloset.
Please consider becoming a patron of Futility Closet — on our Patreon page you can pledge any amount per episode, and we've set up some rewards to help thank you for your support.
You can also make a one-time donation on the Support Us page of the Futility Closet website.
Many thanks to Doug Ross for the music in this episode.
If you have any questions or comments you can reach us at podcast@futilitycloset.com. Thanks for listening!