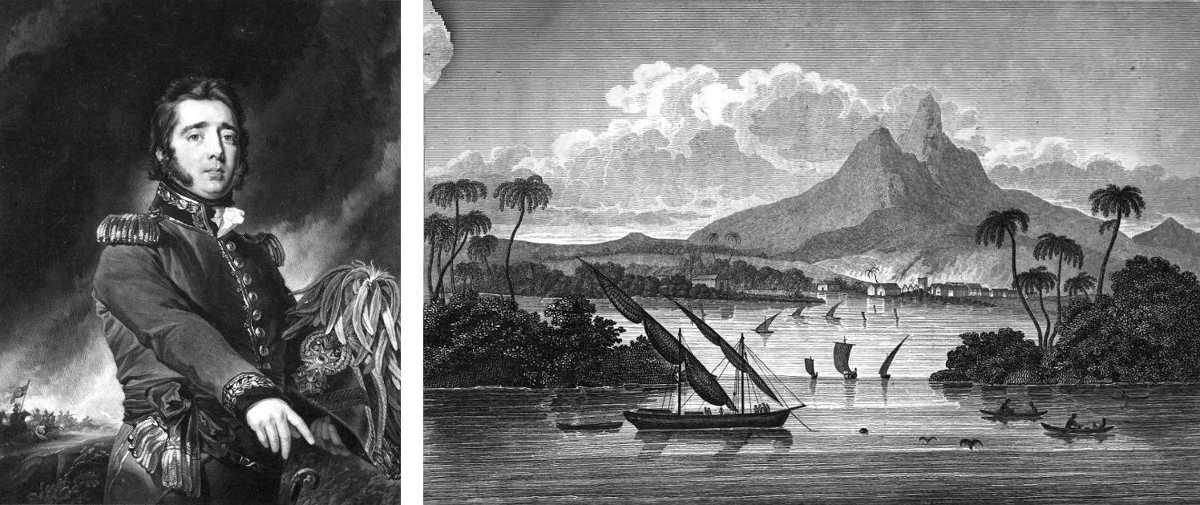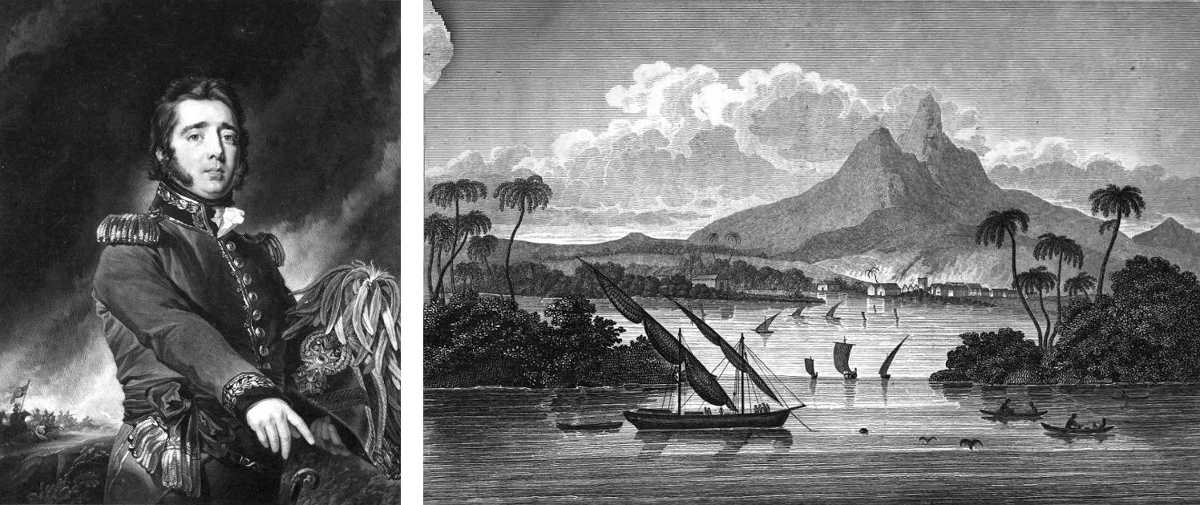 In 1821, Scottish adventurer Gregor MacGregor undertook one of the most brazen scams in history: He invented a fictional Central American republic and convinced hundreds of his countrymen to invest in its development. Worse, he persuaded 250 people to set sail for this imagined utopia with dreams of starting a new life. In this week's episode of the Futility Closet podcast we'll describe the disastrous results of MacGregor's deceit.
We'll also illuminate a hermit's behavior and puzzle over Liechtenstein's flag.
Intro:
In 1878, a neurologist noted that French-Canadian lumberjacks tended to startle violently.
Each year on Valentine's Day, someone secretly posts paper hearts in Montpelier, Vt.
Sources for our feature on Gregor MacGregor:
David Sinclair, Sir Gregor MacGregor and the Land That Never Was, 2003.
Matthew Brown, "Inca, Sailor, Soldier, King: Gregor MacGregor and the Early Nineteenth-Century Caribbean," Bulletin of Latin American Research 24:1 (January 2005), 44-70.
T. Frederick Davis, "MacGregor's Invasion of Florida, 1817," Florida Historical Society Quarterly 7:1 (July 1928), 2-71.
Emily Beaulieu, Gary W. Cox, and Sebastian Saiegh, "Sovereign Debt and Regime Type: Reconsidering the Democratic Advantage," International Organization 66:4 (Fall 2012), 709-738.
R.A. Humphreys, "Presidential Address: Anglo-American Rivalries in Central America," Transactions of the Royal Historical Society 18 (1968), 174-208.
Courtenay de Kalb, "Nicaragua: Studies on the Mosquito Shore in 1892," Journal of the American Geographical Society of New York 25:1 (1893), 236-288.
A.R. Hope Moncrieff, "Gregor MacGregor," Macmillan's Magazine 92:551 (September 1905), 339-350.
"The King of Con-Men," Economist 405:8816 (Dec. 22, 2012), 109-112.
"Sir Gregor MacGregor," Quebec Gazette, Oct. 18, 1827.
Guardian, "From the Archive, 25 October 1823: Settlers Duped Into Believing in 'Land Flowing With Milk and Honey,'" Oct. 25, 2013.
Maria Konnikova, "The Con Man Who Pulled Off History's Most Audacious Scam," BBC Future, Jan. 28, 2016.
"Thomas Strangeways", Sketch of the Mosquito Shore, 1822.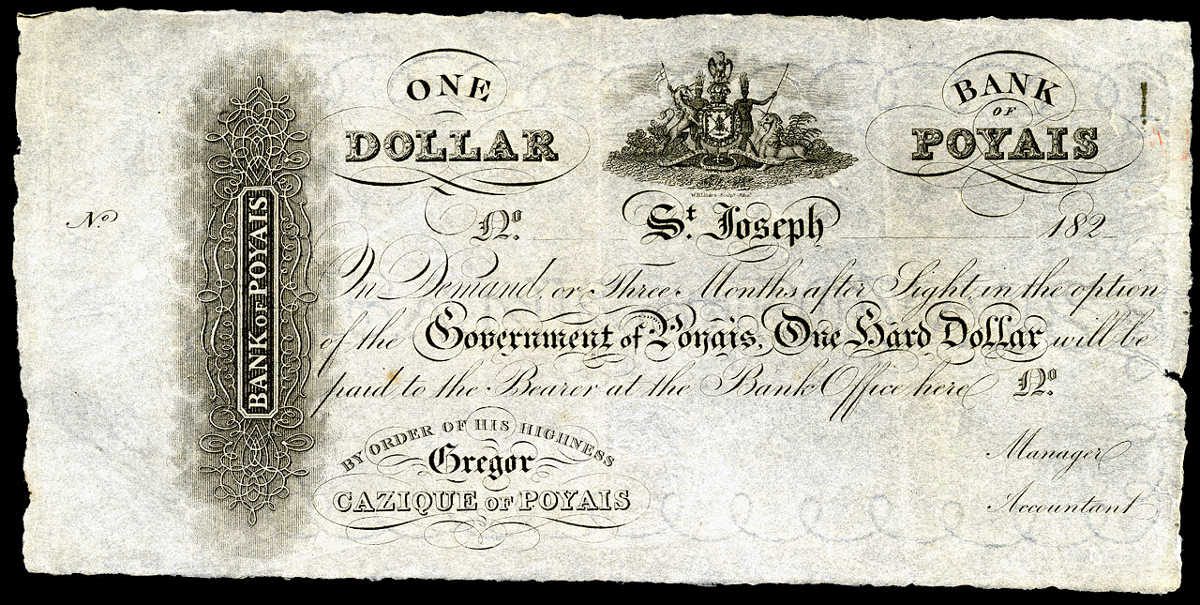 A Bank of Poyais dollar, printed by the official printer of the Bank of Scotland. MacGregor traded these worthless notes for the settlers' gold as they departed for his nonexistent republic.
Listener mail:
Robert McCrum, "The 100 Best Novels: No 42 – The Thirty-Nine Steps by John Buchan (1915)," Guardian, July 7, 2014.
This week's lateral thinking puzzle was inspired by an item in Dan Lewis' Now I Know newsletter. Here's a corroborating link (warning — both links spoil the puzzle).
You can listen using the player above, download this episode directly, or subscribe on iTunes or Google Play Music or via the RSS feed at http://feedpress.me/futilitycloset.
Please consider becoming a patron of Futility Closet — on our Patreon page you can pledge any amount per episode, and we've set up some rewards to help thank you for your support.
You can also make a one-time donation on the Support Us page of the Futility Closet website.
Many thanks to Doug Ross for the music in this episode.
If you have any questions or comments you can reach us at podcast@futilitycloset.com. Thanks for listening!