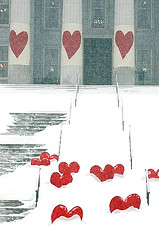 Each year, in the early hours of Valentine's Day, someone scatters red hearts through downtown Montpelier, Vt.
When they first appeared, in 2002, they were simple photocopies, but by 2006 large banners were gracing the State House columns. Soon the decorations spread to the high school's chimney and a tower at the Vermont College of Fine Arts.
"Currently, there are no leads and no suspects," joked police chief Dave Janawicz in 2007, when 14 inches of snow failed to stop the bandit. "But the investigation continues."
Vermont's capital is not alone in this — for years, the same thing has been happening in Portland, Maine, and in Boulder, Colo. No one knows who does it or why.
A similar phantom visits the grave of Edgar Allan Poe each year on the poet's birthday.