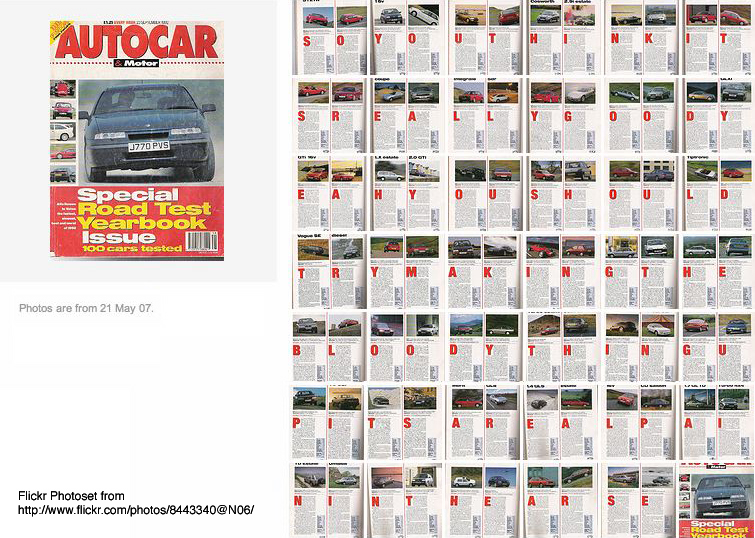 Many thanks to podcast listener Matt Taylor for this:
In 1992 British journalist James May was hired to compile the annual "Road Test Year Book" for Autocar magazine, a collection of the year's car reviews. The task "was extremely boring and took several months," May said, so to amuse himself he began to hide acrostics in the text. The design of the supplement called for four reviews on each two-page spread, with the first letter of each review presented as a large red capital letter. May arranged the text so that the four red letters on one spread spelled out ROAD, another spread spelled TEST, and so on.
Readers who noticed this might have been disappointed to find that the pattern didn't continue — the four-letter phrases soon reverted to non-words such as SOYO and UTHI.
But those with the patience to put all the non-words together found a masterly 81-letter message:
SO YOU THINK ITS REALLY GOOD YEAH YOU SHOULD TRY MAKING THE BLOODY THING UP ITS A REAL PAIN IN THE ARSE
Autocar's editors overlooked the acrostic entirely — they learned about it only when readers called in seeking a prize.
May was fired, but he went on to bigger things: He was a co-presenter of the motoring program Top Gear for 13 years.