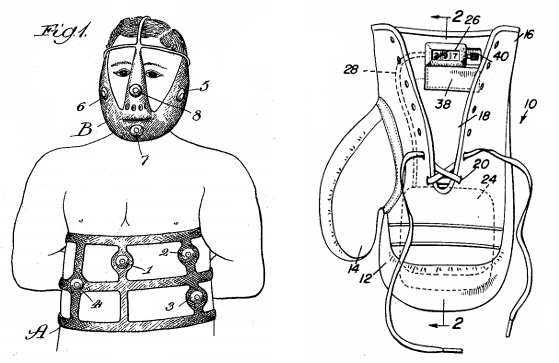 In 1895, stung by charges that boxing is a brutal sport, Joseph Donovan patented the training rig on the left. Each boxer wears a harness and headgear with electrical contacts at each of the classic vulnerable points: the heart, the pit of the stomach, the chin, the nose, etc. When a sparring partner hits one of these points, a bell sounds and points are scored.
Donovan argued that this makes the scoring more objective and the sport more civilized. "It renders one of the healthiest and most fascinating athletic exercises absolutely safe," he wrote, "doing away completely with roughing, bloodletting, brutality, knockdowns, and knockouts, and reducing boxing and the manly art of self-defense to a science, in which rapidity of arm and leg work, endurance, and quick conception are the only factors."
In the same spirit, in 1956 Willie Roberson patented a glove with a built-in counter (right): "Each time a blow above a predetermined force is struck, such blow will be recorded, whereby the total number of effective blows struck during a boxing match will be readily available to the referee and judges judging the boxing match." If we combine the two then we can even confirm the counts!