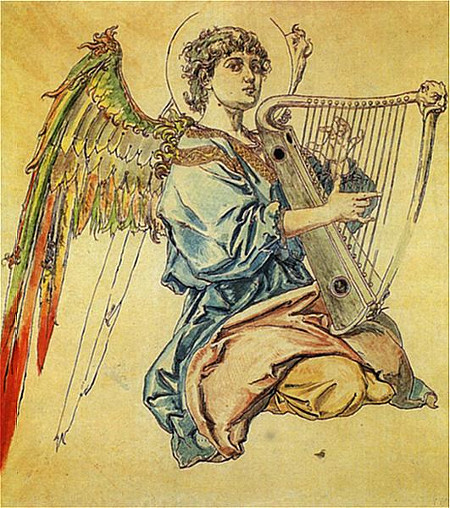 Being an angel is hard work. In his 1926 essay "On Being the Right Size," J.B.S. Haldane writes, "An angel whose muscles developed no more power weight for weight than those of an eagle or a pigeon would require a breast projecting for about four feet to house the muscles engaged in working its wings, while to economize in weight, its legs would have to be reduced to mere stilts."
And this takes no account of the weight of the harp. In The Book of the Harp, John Marson notes that gold is about 10 times heavier than willow, once the favorite wood of Celtic harp makers. He calculates that a harp of gold would weigh 120 pounds, far more than the 70-80 pounds of the largest pedal harp.
Should we worry about this? Let us not forget that it was angels who destroyed Babylon for its people's wrongdoings. In the Book of Revelation, chapter 18, verse 21 tells us: "And a mighty angel took up a stone like a great millstone, and cast it into the sea, saying, 'Thus with violence shall that great city of Babylon be thrown down.'"
This becomes a public health matter. Even if harps aren't thrown at us deliberately by vengeful angels, Marson writes, "there is always the danger of one being dropped accidentally from a great height, resulting in the kind of damage caused on occasion by meteorites — unless, of course, the Bible is indeed correct after all, and angels do not play harps."
See Hesiod's Anvil.