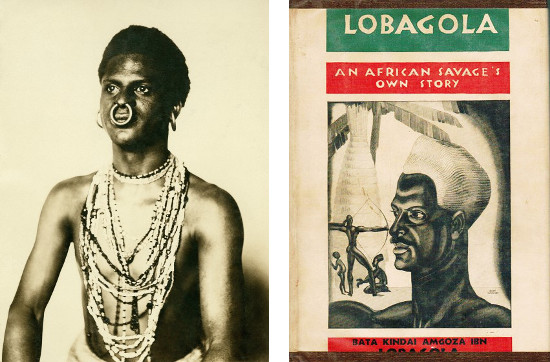 In the 1920s Bata Kindai Amgoza ibn LoBagola toured the United States and Europe to share the culture of his African homeland with fascinated audiences. The reality was actually much more mundane: His name was Joseph Lee and he was from Baltimore. In this week's episode of the Futility Closet podcast we'll tell the curious story of this self-described "savage" and trace the unraveling of his imaginative career.
We'll also dump a bucket of sarcasm on Duluth, Minnesota, and puzzle over why an acclaimed actor loses a role.
Please consider becoming a patron of Futility Closet — on our Patreon page you can pledge any amount per episode, and all contributions are greatly appreciated. You can change or cancel your pledge at any time, and we've set up some rewards to help thank you for your support.
You can also make a one-time donation via the Donate button in the sidebar of the Futility Closet website.
Sources for our feature on Bata LoBagola:
Bata Kindai Amgoza ibn LoBagola, LoBagola: An African Savage's Own Story, 1930.
David Killingray and Willie Henderson, "Bata Kindai Amgoza ibn LoBagola and the Making of An African Savage's Own Story," in Bernth Lindfors, Africans on Stage: Studies in Ethnological Show Business, 1999.
Alex Pezzati, "The Scholar and the Impostor," Expedition 47:2 (Summer 2005), 6.
James Olney, Tell Me Africa: An Approach to African Literature, 2015.
Louis Chude-Sokei, The Last "Darky": Bert Williams, Black-on-Black Minstrelsy, and the African Diaspora, 2005.
John Strausbaugh, Black Like You: Blackface, Whiteface, Insult & Imitation in American Popular Culture, 2007.
Bata Kindai Amgoza Ibn LoBagola papers, New York Public Library Archives & Manuscripts.
Jim Christy, "Scalawags: Bata Kindai Amgoza ibn LoBagola," Nuvo, Summer 2013.
Kentucky representative James Proctor Knott's derisive panegyric on Duluth, Minnesota, was delivered in the U.S. House of Representatives on Jan. 27, 1871.
This week's lateral thinking puzzle was contributed by listener Ben Snitkoff, who sent this corroborating link (warning — this spoils the puzzle).
You can listen using the player above, download this episode directly, or subscribe on iTunes or via the RSS feed at http://feedpress.me/futilitycloset.
Many thanks to Doug Ross for the music in this episode.
Enter promo code CLOSET at Harry's and get $5 off your first order of high-quality razors.
If you have any questions or comments you can reach us at podcast@futilitycloset.com. Thanks for listening!