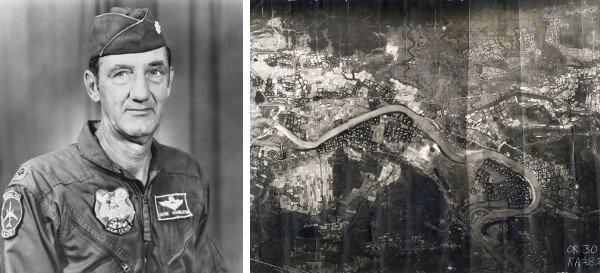 In 1972, Air Force navigator Gene Hambleton was shot down over enemy territory in Vietnam, and a ferocious offensive beat back every attempt to rescue him. In today's show we'll learn how his lifelong passion for golf became the key to his escape.
We'll also learn about a videogame based on the Dyatlov Pass incident and puzzle over why a military force drops bombs on its friends.
Sources for our feature on Gene Hambleton:
William C. Anderson, BAT-21, 1980.
Darrell D. Whitcomb, The Rescue of BAT 21, 1998.
George Esper, "Commando Team Snatches Downed Airmen From Midst of Enemy's Invasion Force," Associated Press, April 25, 1972.
Dennis McLellan, "'Gene' Hambleton, 85; His Rescue Depicted in 'Bat-21' Books, Film," Los Angeles Times, Sept. 27, 2004.
In 1981 TriStar released a dramatization of Hambleton's experience, Bat*21, starring Gene Hackman and Danny Glover.
Listener mail:
The full text of Arthur Conan Doyle's story "The Problem of Thor Bridge" is on Wikisource.
The videogame about the Dyatlov Pass incident is called Kholat. (It's named after Kholat Syakhyl, the mountain on which the Dyatlov hikers pitched their tent.)
This week's lateral thinking puzzle was contributed by listener Mike Martin. Here are two corroborating links (warning — these spoil the puzzle).
You can listen using the player above, download this episode directly, or subscribe on iTunes or via the RSS feed at http://feedpress.me/futilitycloset.
Please consider becoming a patron of Futility Closet — on our Patreon page you can pledge any amount per episode, and all contributions are greatly appreciated. You can change or cancel your pledge at any time, and we've set up some rewards to help thank you for your support.
You can also make a one-time donation via the Donate button in the sidebar of the Futility Closet website.
Many thanks to Doug Ross for the music in this episode.
If you have any questions or comments you can reach us at podcast@futilitycloset.com. You can also follow us on Facebook and Twitter. Thanks for listening!