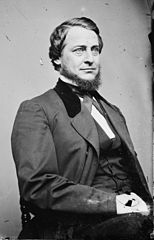 Clement Vallandigham accidentally shot himself demonstrating how one might accidentally shoot oneself. The Ohio lawyer was representing a defendant accused of killing a man in a barroom brawl. Vallandigham wanted to show that the victim might have shot himself while trying to draw his pistol from a kneeling position.
"I'll show you how Tom Myers shot himself," he said to his fellow defense attorneys in discussing the case. He put a gun into his pocket and began to draw it. "There, that's the way Myers held it," he said, "only he was getting up, not standing erect." And he touched the trigger.
"A sudden flash — the half suppressed sound of a shot — and Clement L. Vallandigham, with an expression of agony, exclaimed: 'My God, I've shot myself!' and reeled toward the wall a wounded and dying man — wounded and dying by his own hands."
He died of peritonitis, but he'd proved his point — the defendant was acquitted.