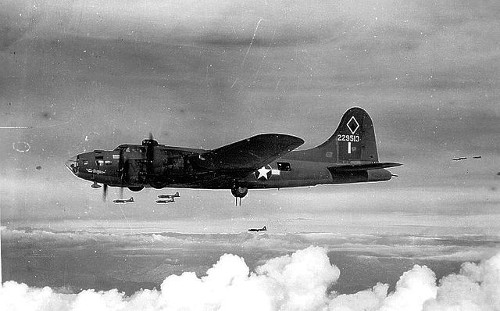 In December 1943, American bomber pilot Charlie Brown was flying a severely damaged B-17 out of Germany when he looked out the cockpit window and saw "the world's worst nightmare" off his right wing — a fully armed German fighter whose pilot was staring back at him.
In this episode of the Futility Closet podcast we'll follow the strange drama that ensued, in which German fighter ace Franz Stigler weighed the human impulse to spare the wounded bomber against his patriotic duty to shoot him down. We'll also consider whether animals follow the 10 commandments and wonder why a man might tell his nephew that his dog will be shot.
Our segment on Charlie Brown and Franz Stigler is drawn largely from Adam Makos' 2012 book A Higher Call: The Incredible True Story of Combat and Chivalry in the War-Torn Skies of World War II. The book trailer contains brief interviews with both men:
Sources for our segment on Ernest Thompson Seton and the 10 commandments:
Ernest Thompson Seton, "The Natural History of the Ten Commandments," The Century, November 1907.
Theodore Roosevelt, "Nature Fakers," Everybody's Magazine, September 1907.
Ralph H. Lutts, The Nature Fakers: Wildlife, Science & Sentiment, 2001.
Paul Dickson, Words From the White House, 2013.
Our post about Seton's belief that the commandments are "fundamental laws of all creation" and thus might be discovered in the animal world originally appeared on April 21, 2010.
The episode in which Seton's father presented him with a bill for his rearing appears in his wife's 1967 collection of his writings, By a Thousand Fires. Our post recounting it ran on July 8, 2014.
Here's Jackie Cooper crying in Skippy (1931), just after hearing that his dog has been shot:
You can listen using the player above, download this episode directly, or subscribe on iTunes or via the RSS feed at http://feedpress.me/futilitycloset. The show notes are on the blog. Many thanks to Doug Ross for the music in this episode.
If you have any questions or comments you can reach us at podcast@futilitycloset.com. Thanks for listening!