Today we're launching a weekly podcast, on which we'll answer listener questions, discuss recent popular posts on Futility Closet, share readers' contributions on previous topics, present intriguing leads that we've encountered in our research, and offer a challenge in which listeners can match their wits.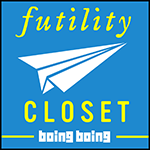 Will New Year's Day fall on a weekend in the year 2063? If calendar reformer Moses Cotsworth had succeeded, anyone in the world could have answered that question instantly — any of us could name the day of the week on which any future date would fall, no matter how distant. In this first episode we examine Cotsworth's plan and similar efforts to improve our clocks and calendars.
We also look at how an antique dollhouse offers a surprising window into 17th-century Dutch history, explore a curious puzzle in an Alfred Hitchcock film, and invite you to participate in the first Futility Closet Challenge.
In discussing where I find story ideas, I describe the origins of The Skeleton in the Bale, a March 9, 2014, post recounting the gruesome doings at an Alabama plantation during the Civil War.
Our main feature this week relates to Moses Cotsworth's campaign to reform the calendar — see our February 2014 post for a look at the pleasingly uniform monthly calendar we'd all be using if he'd succeeded.
And here's the World Calendar Association, which is still championing the reforms proposed by Elisabeth Achelis.
Our March 4 post on Elaine Diehl's 600-pound dollhouse brought this comment from Daniël Hoek:
During their Golden Age, the Dutch were very fond of this stuff, expending enormous sums of money on elaborate doll houses:

http://www.rijksmuseum.nl/en/explore-the-collection/works-of-art/dolls-houses/objects#/BK-NM-1010,0

In the one linked to, every effort was made to make every trinket out of the same materials as its macroscopic equivalent. The plates are real porcelain imported from China, the paintings were commissioned from famous artists, the bookcase (the closed cupboard in the lower right) was filled with miniature books containing miniature stories, etc., etc. The cost of producing the thing vastly outstripped the cost of buying a real mansion in central Amsterdam.
He's right — Jacob Appel painted Petronella Oortman's elaborate dollhouse in 1710: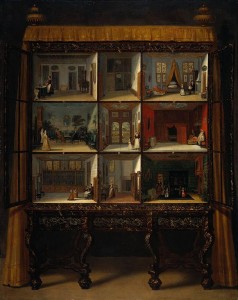 And here's a recent photograph: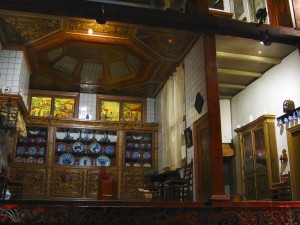 A similarly elaborate dollhouse, completed in 1924 for Queen Mary, wife of George V, contains a tiny volume written by Arthur Conan Doyle, with the shortest Sherlock Holmes story ever written.
This week's Futility Closet Challenge invites you to take a well-known phrase and change or remove one letter to make a memorable new phrase. Here are some more entries from the New York magazine competition that inspired it:
Love's Labours Cost
Little Miss Muffet sat on a tuffet, eating her curds — and why?
What is so rare as a May in June?
Black as the pit from pole to pole / I thank whatever God may be / For my unconquerable soup.
Post your own entry below and we're read our favorites on next week's show.
Many thanks to Doug Ross for the music in this episode. You can subscribe to the Futility Closet podcast now on iTunes; the direct feed is here:
http://feedpress.me/futilitycloset
Next week we plan to discuss the hysteria that greeted the return of Halley's comet in 1910; explore the fate of balloon-borne sheepdogs during the siege of Paris; and offer a new Futility Closet Challenge.
You can listen using the player above, download this episode directly, or subscribe on iTunes or via the RSS feed at http://feedpress.me/futilitycloset. The show notes are on the blog, where you can also enter your submissions in this week's Challenge. Many thanks to Doug Ross for the music in this episode.
We plan to release a new episode each Monday. Next week we'll discuss the hysteria that greeted the return of Halley's comet in 1910; investigate the use of balloon-borne sheepdogs during the Siege of Paris; commemorate a misplaced Australian prime minister; and offer a new Futility Closet Challenge. If you have any questions or comments you can reach us at podcast@futilitycloset.com. Thanks for listening!