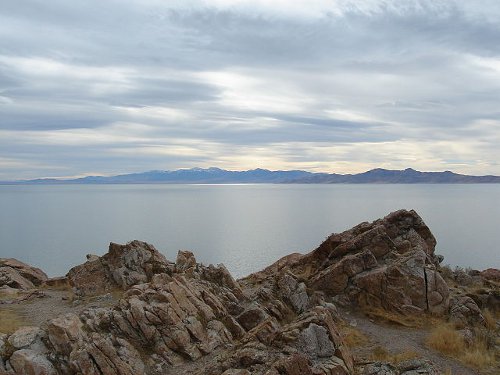 Here's an imaginative newspaper hoax from the American West — James Wickham, a "scientific English gentleman," was said to have released two 35-foot whales in the Great Salt Lake in 1873:
Mr. Wickham came from London in person to superintend the 'planting' of his leviathan pets. He selected a small bay near the mouth of Bear River connected with the main water by a shallow strait half a mile wide. Across this strait he built a wide fence, and inside the pen so formed he turned the whales loose. After a few minutes inactivity they disported themselves in a lively manner, spouting water as in mid-ocean, but as if taking in by instinct or intention the cramped character of their new home, they suddenly made a bee line for deep water and shot through the wire fence as if it had been made of threads. In twenty minutes they were out of sight, and the chagrined Mr. Wickham stood gazing helplessly at the big salt water.

If Great Salt lake were in Asia it would be called a sea. It is seventy-five miles long and from thirty to forty wide, so it is easy to perceive how readily the whales could vanish from sight. Though the enterprising owner was of course, disappointed and doubtful of the results, he left an agent behind him to look after his floating property.

Six months later Mr. Wickham's representative came upon the whales fifty miles from the bay where they had broken away, and from that time to the present they have been observed at intervals by him and the watermen who ply the lake, spouting and playing.

Within the last few days, however, Mr. Wickham cabled directions to make careful inspection and report the developments, and the agent followed the whales for five successive days and nights, discovering that the original pair are now sixty feet in length, and followed about by a school of several hundred young, varying in length from three to fifteen feet. The scheme is a surprising and complete success, and Mr. Wickham has earned the thanks of mankind.
I'm not sure when it first appeared. The earliest publication I can find is in the Salt Lake Herald of June 27, 1890, which noted that the article was "again going the rounds" and reprinted it "merely to show that while great interest is taken by the country generally in that wonderful body of water known as the Great Salt lake, there is also great ignorance shown by outside people who endeavor to explain its beauties and advantages."