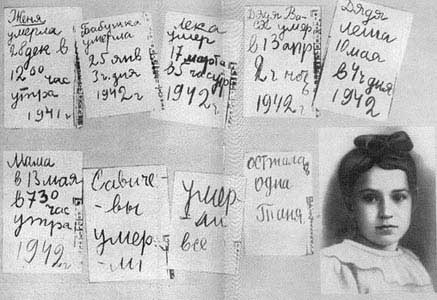 In August 1942 a students' nursing brigade discovered 12-year-old Tanya Savicheva, weak with hunger, living alone in an apartment in Leningrad, which had been besieged by Hitler since September 1941. She had kept this diary:
Zhenya died on December 18, 1941, at twelve noon.
Grandma died on January 25, 1942, at three in the afternoon.
Leka died on March 17, 1942, at five o'clock in the morning.
Uncle Vasya died on April 13, 1942, at two o'clock at night.
Uncle Lesha on May 10, 1942, at four o'clock in the afternoon.
Mama died on May 13, 1942, at 7:30 in the morning.
The Savichevs are dead.
Everyone is dead.
Only Tanya is left.
The nurses evacuated her along the narrow lifeline that had been opened that summer by the Soviet army and placed her in an orphanage in a nearby village, but she died there, probably of chronic dysentery, in July 1944. The diary is kept today in the St. Petersburg Museum of History.