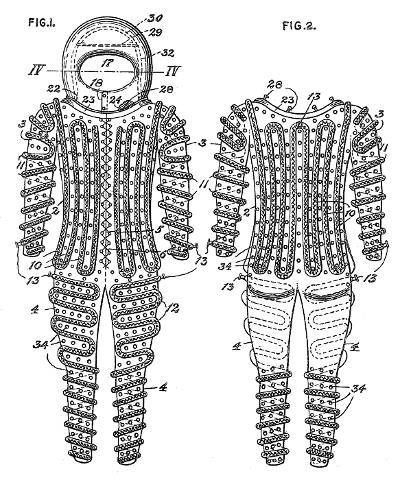 As motorcycles grew more popular in the early 20th century, Russian inventor Frank Marcovsky designed a suit of armor to protect riders:
The suit in its entirety comprises a one-piece garment, having the body, legs and arms, and a detachable helmet or head piece, each of such portions being provided with inflatable cushioning elements adapted to be filled with compressed air, for the purpose of protecting the wearer from shocks or blows incidental to accidents or the use to which the armor is put.
The inflatable ribs can be filled at an air pump, forming a protective cushion that leaves the rider the full use of his limbs. "All exposed portions of the body of the wearer are amply protected against severe shocks of impact or blows incidental to accidental contact with the ground, other riders, fences, etc." The patent was granted in 1915; I don't know how it fared.