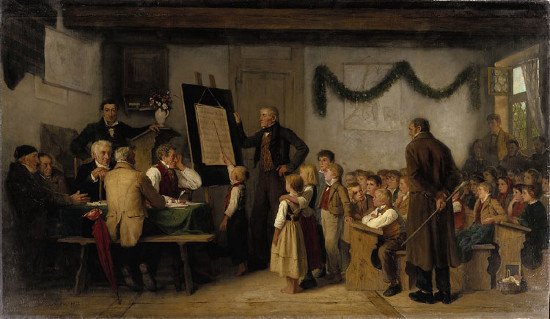 Letter from Petrarch to Zanobi da Strada, April 1, 1352:
Let them teach who can do nothing better, whose qualities are laborious application, sluggishness of mind, muddiness of intellect, prosiness of imagination, chill of the blood, patience to bear the body's labors, contempt of glory, avidity for petty gains, indifference to boredom. You see how far these qualities are from your character. Let them watch boys' fidgety hands, their wandering eyes, their sotto voce whisperings who delight in that task, who enjoy dust and noise and the clamor of mingled prayers and tears and whimperings under the rod's correction. Let them teach who love to return to boyhood, who are shy of dealing with men and shamed by living with equals, who are happy to be set over their inferiors, who always want to have someone to terrify, to afflict, to torture, to rule, someone who will hate and fear them. That is a tyrannical pleasure, such as, according to the story, pervaded the fierce spirit of that old man of Syracuse, to be the evil solace of his deserved exile. But you, a man of parts, merit a better occupation. Those who instruct our youth should be like those ancient authors who informed us in our own early age; as those who first aroused our young minds with noble examples, so should we be to our successors. Since you can follow the Roman masters, Cicero and Virgil, would you choose Orbillius, Horace's 'flogging-master'? What is more, neither grammar nor any of the seven liberal arts is worth a noble spirit's attention throughout life. They are means, not ends …
Zanobi, a poor Florentine schoolmaster, was so affected by his friend's words that he gave up teaching and became a government official. Three years later he was crowned poet laureate of Pisa, annoying Petrarch, who in 1341 had been crowned the first laureate since antiquity in Rome.