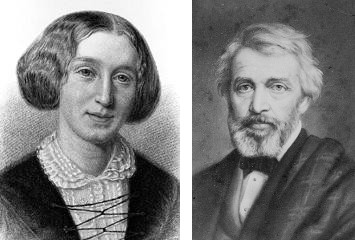 George Eliot's 1859 novel Adam Bede opens in a carpenter's workshop:
The concert of the tools and Adam's voice was at last broken by Seth, who, lifting the door at which he had been working intently, placed it against the wall, and said, 'There! I've finished my door to-day, anyhow.'

The workmen all looked up; Jim Salt, a burly, red-haired man known as Sandy Jim, paused from his planing, and Adam said to Seth, with a sharp glance of surprise, 'What! Dost think thee'st finished the door?'

'Aye, sure,' said Seth, with answering surprise; 'what's awanting to't?'

A loud roar of laughter from the other three workmen made Seth look round confusedly. Adam did not join in the laughter, but there was a slight smile on his face as he said, in a gentler tone than before, 'Why, thee'st forgot the panels.'

The laughter burst out afresh as Seth clapped his hands to his head, and coloured over brow and crown.
"I found out in the first two pages that it was a woman's writing," Thomas Carlyle complained to Willliam Allingham. "She supposed that in making a door, you last of all put in the panels!"