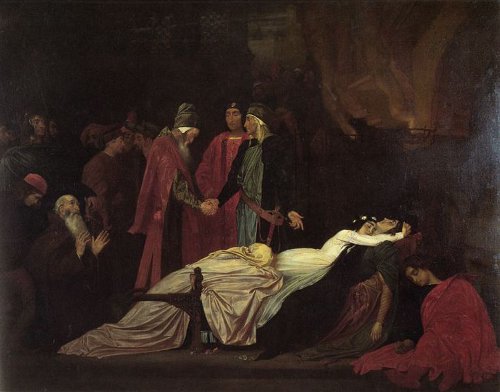 Fanny Kemble's 1833 American tour was not a uniform success — her journal gives this account of one eventful scene in Baltimore:
ROMEO: Tear not our heart strings thus! They crack! They break! — Juliet! Juliet! (dies)
JULIET: (to corpse) Am I smothering you?
CORPSE: (to Juliet) Not at all. Could you be so kind, do you think, as to put my wig on again for me? It has fallen off.
JULIET: (to corpse) I'm afraid I can't, but I'll throw my muslin veil over it. You've broken the phial, haven't you? (corpse nods)
JULIET: Where's your dagger?
CORPSE: 'Pon my soul, I don't know.
"The play went off pretty well, except they broke one man's collar-bone, and nearly dislocated a woman's shoulder by flinging the scenery about."